As I pulled into the gravel driveway of Hickory Hideaway Cabins, I knew I was going to love the quaint cabins, cozy vibes, and gorgeous views. Located in Carroll County, Illinois, Hickory Hideaway consists of 12 cabins of varying size and amenities, all well-maintained and loved by the owners, George and Sherry. Read on to learn more about the property, the cabins, and my personal experience staying at Hickory Hideaway Cabins.
My stay at Hickory Hideaway was hosted by Visit NW Illinois and Shrpa, but all opinions are my own and I cannot wait to go back for another relaxing getaway. 
When you make purchases through the links in my post, I may earn commissions at no additional cost to you. As an Amazon Associate I earn from qualifying purchases. As always, I only provide links to products and services I recommend.Read my full disclosure here.
Where is Hickory Hideaway?
Hickory Hideaway is located in Carroll County, Illinois, specifically in the Village of Shannon. The property is located just minutes off I-73 and is an easy drive from Midwest cities like Madison, Dubuque, Chicago, Rockford, and Milwaukee. 
What is there to do in Carroll County?
Trust me, once you arrive at Hickory Hideaway, you will not want to leave. It's such a peaceful area and it's truly the best place to relax. However, if you decide to venture out, head to Savanna or Mount Carroll. In Savanna you'll find Mississippi Palisades State Park, cSavanna Adventures, The Great River Trail, and local shops and restaurants. Mount Carroll has the cutest historic downtown with shops, restaurants, and public buildings like the courthouse, library, and jail. Check out my post on Carroll County for an itinerary of the area and details on some of the best things to do. 
Price of Hickory Hideaway Cabins: 
Rentals at Hickory Hideaway start at $149 per night for the country cottage, $159 per night for the rustic whirlpool cottage, and $179 per night for the luxury cabin. To make a reservation, you must call the property at (815) 864-2099. There is a contact form online for initial information, but you must call to provide credit card information to hold the reservation.
Hickory Hideaway Property Details: 
Amenities in All Cabins: 
Microwave 
Mini Fridge
Coffee Maker
Kitchen Sink 
Outdoor Grill 
Bathroom Toiletries – Soap, Shampoo, Conditioner 
Towels 
Pets may be allowed in select cabins – call ahead to discuss with owners, Sherry & George
Cabin Options at Hickory Hideaway: 
Luxury Cabins: Perfect for the romantic getaway, the Luxury Cabin is a studio-sized space that offers a king-sized bed and a jetted whirlpool tub for two. There's also a cozy fireplace, comfy couch and TV. While these cabins do not have a full kitchen, they do have a sink, coffee maker, mini-fridge and microwave. 
Rustic Whirlpool Cottages: Perfect if you need a little more space, the Rustic Whirlpool Cottages offer a queen-sized bed and fireplace in the main area, and a jetted whirlpool tub for two and additional queen-sized bed in a separate room. Perhaps the best part? These cottages offer deck access that overlook the property's stunning countryside. 
Country Cottages: If you're traveling as a large family or with a group, the Country Cottages will do the trick. These are duplex-style cottages that fit up to a total of 8 people (if you rent both units). While they do not have a jetted whirlpool tub like the Luxury Cabins or the Rustic Whirlpool Cottages, the Country Cottages have full kitchens so you can truly feel like you're at home. 
My Hickory Hideaway Experience:
I stayed at Hickory Hideaway Cabins in early October when the Midwest temperatures were just starting to cool off and the leaves were thinking about turning color. I stayed on a Monday night during off-peak season, so only a few of the cabins were booked and the property was very quiet and peaceful. 
I stayed in one of the four Luxury Cabins and absolutely loved it. You'll feel cozy and at home from the moment you walk into the cabin. While I was solo for this trip, there is plenty of space for two and George and Sherry have enough towels, kitchen amenities, and pillows to suit the needs of a couple. 
As soon as I walked in I immediately enjoyed the warmth of the fireplace and appreciated the little details like the champagne and glasses on the bed and next to the whirlpool tub, the guest journal on the writing desk, and the world globes that decorated the cabin. 
I had a busy itinerary during my time in Carroll County and I was so excited to get home to the cabin after a late night and enjoy some TV and a hot bath – I was not disappointed. Even arriving back after 10pm, the property was well-lit and I never felt unsafe getting back into the cabin. Once inside I followed the nicely laid-out instructions for operating the whirlpool tub and started a hot bath. After the tub was filled and I found a show on TV to watch, I warmed up in the tub big enough for two and relaxed after a busy day. 
Once all clean and relaxed, I got into my jammies and crawled into bed where I fell asleep within 5 minutes. I usually toss and turn a bit when I'm away from my own bed, but let me tell you, the bed was so warm and comfortable that I slept through the night and even stayed in bed to do a little work in the morning.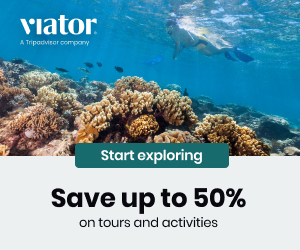 Before checking out, I enjoyed a morning walk along the property where I took in the fall countryside views. There were also two chairs outside the entrance to my cabin which would be a great spot to relax and look for wildlife, but it was a bit too chilly and windy to just sit outside.
Overall Thoughts:
Coming from someone who typically stays at traditional hotels, staying at Hickory Hideaway was such a treat and I loved every second of it. It truly felt like a cozy little home and George and Sherry truly make sure everything is perfect for your stay. My only regret is not having more time to spend in the cabin and to enjoy the property. I can't wait to go back and take my husband with me next time.