When you're needing a relaxing escape that has a little bit of everything to fill your soul and won't break the bank, look no further than Carroll County Illinois. I had never heard of this quaint area less than a two-hour drive from me, but I was pleasantly surprised by this Midwest escape and quickly fell in love. Although highly underrated, Carroll County Illinois is home to amazing outdoor adventure, unique shopping experiences, and tasty meals complete with local conversation. 
This getaway was sponsored by Visit NW Illinois and Shrpa to showcase this hidden gem of the Midwest. However, as always, all recommendations and opinions are my own. 
When you make purchases through the links in my post, I may earn commissions at no additional cost to you. As an Amazon Associate I earn from qualifying purchases. As always, I only provide links to products and services I recommend.Read my full disclosure here.
Where is Carroll County?
Carroll County is located in Northwest Illinois, with many miles of the county following the Great River Road National Scenic Byway. 
Carroll County is located just a short drive from several Midwest cities: 
2 hours southwest of Madison
1 hour and 20 minutes southeast of Dubuque 
2 hours and 30 minutes west of Chicago 
This part of Illinois is beautiful and peaceful, featuring rolling hills, views of the Mississippi River, and local farmland. 
How Large is Carroll County?
According to the 2020 Census, Carroll County had a population of just under 16,000 people. Visiting the county, you definitely sense that small-town feel, which gives the area so much added charm. 
Where to Stay:
There are several wonderful, locally-owned places to stay during your visit to Carroll County. During my visit, I stayed at Hickory Hideaway in one of George and Sherry's cabins and absolutely loved it. I was solo for this trip and felt totally safe 100% of the time. I highly recommend staying at Hickory Hideaway – read my full review here. 
Day 1: Hiking, Tasty Food, and a Haunted House
A great first activity after a cramped car ride is hiking at Mississippi Palisade State Park. The park is divided into North and South sections, and I'd recommend the South portion for scenic hikes and beautiful lookouts. Aside from Sentinel Lookout which is accessible via Sentinel Trail, there are several others which you can hike to, or choose to drive and walk just a short distance. 
Most of the hikes in the park are right around one mile in distance. If you aren't afraid of heights, I'd recommend the Sentinel Trail which is a one-mile moderate loop that takes you to a viewpoint overlooking the Mississippi River and provides stunning views of the cliffside. While I was the only one on the trail when I visited, it is very narrow in parts, so it could potentially get a little unnerving at times when the trail is crowded. 
The Illinois State Park System has no admission fees so you do not need to stop at an entrance station or visitor center upon arrival. 
Depending on what time the sun sets, consider catching the colorful sky from Mississippi Palisades State Park before heading to The Copper Cow for dinner. The restaurant and bar is located about 20 minutes from Mississippi Palisades State Park. While Google Maps gives great directions, you might be surprised as you pull up: the building is actually a restaurant, even though it gives off church vibes.
The restaurant is actually located in an old theater and is still used as a wedding venue. With no special events taking place, I grabbed a spot at the bar along with a glass of Pinot Grigio before engaging in conversation with the locals – it was wonderful. 
The menu at The Copper Cow is large and varied, with everything from light appetizers and salads to sandwiches and pizzas. I ordered a pizza for myself and was shocked when it came out with enough pie for a family of four.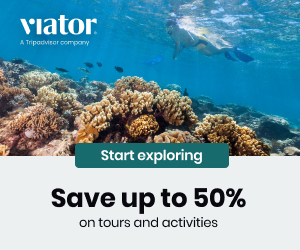 Depending on your tastes, there are a few other spots to grab a delicious meal in Mt. Carroll, including Molly's Kitchen and Bar, which is open for dinner Wednesday through Saturday. Other options include Charlies II (open Tuesday through Saturday) and Mt. Carroll Cafe which is open daily for breakfast, lunch and dinner. 
After dinner, you're in for a treat with a fun and unique tour of Raven's Grin Inn, a famous Mt. Carroll haunted house. Open by reservation-only, Raven's Grin Inn is a must-visit for those even remotely interested in anything haunted or uniquely art. The house is owned by Jessica and Jim Warfield, who provide a wealth of knowledge about the house and the area.
Jim did almost all of the artwork himself and designed the installations in the house, so it's an absolute treat if you are able to take a tour with him. No photos are allowed inside so you'll have to go and see for yourself, but one of my favorite features was a slide into the wine cellar (now that has you curious, right?!). 
Tickets to Raven's Grin Inn are $10 per person and tours must be arranged in advance. If you just show up, no one will be there, so make sure you reach out to Jessica and Jim ahead of time at ravensgringallery@gmail.com. 
After your tour, head back to your cozy cabin at Hickory Hideaway (or wherever you call home for the night) and relax by the fire pit, or snuggle up in bed with a good book. 
Day 2: A Classic Breakfast, The Great River Trail, and Local Shopping
If you're staying at Hickory Hideaway during your visit, I highly recommend taking a walk along the property to start your morning. It's beautiful and peaceful, and it's a great way to kickoff your day. Once you are ready to check-out, pack up your car and head to Brothers Inn Restaurant in Lanark. 
While Brothers Inn Restaurant offers breakfast, lunch and dinner, their specialty is breakfast, offering specials Monday through Friday. Grab a cup of coffee (or hot chocolate or juice) before ordering eggs and bacon, an omelet, or sweet strawberry french toast. The restaurant accepts cash or credit cards, and has ample parking spots available. 
After a tasty breakfast, hop back in your car and drive about 18 miles for your next adventure. The 62-mile Great River Trail begins in Carroll County in Savanna, Illinois and heads west along the Mississippi before ending in Rock Island, Iowa (Quad Cities). The trailhead in Savanna is located near the Savanna Marina and is next to two large parking lots. There are also plenty of food and drink options nearby. 
Load up your own bike, or rent an e-bike from cSavanna Adventures, and enjoy a few hours on the trail. I recommend riding the first segment of trail from Savanna to Thomson where you'll encounter a boardwalk overlooking the Spring Lake area. You'll also reach the Upper Mississippi River National Wildlife and Fish Refuge Spring Lake (great for birdwatching with two nature trails) and the Ingersoll Wetlands Learning Center where you can learn more about the wildlife found around the Mississippi. 
Thomson is a great spot to have lunch before turning around and heading back to Savanna. Check out Bears Drive-Inn for sandwiches, burgers, and delicious ice cream treats, or Dusty's Pizza Plus for yummy pizza and pasta options. 
After spending the morning biking the Great River Trail, head to downtown Mount Carroll where you can walk historic cobblestone streets while enjoying all that this charming town of 1,300 has to offer. If you need an afternoon snack, stop in for a slice of pie at Mt. Carroll Cafe or head back to Charlies II for an appetizer and drink. Downtown Mount Carroll also houses the courthouse and jail, a public library, and several locally-owned shops that are fun to browse. 
Although there's no way to fit in all that Carroll County has to offer in just two days, you're certain to have gotten a great sense of the area that'll leave you itching for more. As you drive back home, make sure to take in all the beautiful views that Northwest Illinois has to offer. 
Additional Activities in Carroll County:
There are plenty of additional activities if you prefer other options. In lieu of biking, consider walking along the bike trail for a few miles or switch gears and kayak the Mississippi River. If you want to relax, cSavanna also offers tubing tours, which sound like an absolute blast.
Additionally, if you visit Carroll County on a weekend, you'll have a lot more options available in terms of food and shopping than if you visit during the week. The area is also home to several wineries with both great-tasting wine and beautiful views. 
Relax and Explore in Carroll County:
Carroll County is one of those areas that once you visit, you'll want to go back again and again. I was so impressed with the outdoor beauty and opportunities to explore. I can't wait to go back during the warmer months and enjoy the river activities.
If you're roadtripping through the area, consider stopping in Galena, IL (Best Things to Do In Galena) or Madison, WI (Madison, WI Destination Guide).