The First "Love"
I don't think you can ever plan for the journey to love and my picture-perfect relationship certainly didn't require a passion for travel – at least at the time. My 15-year-old or even 20-year-old self never would have imagined I'd spend my honeymoon on a beach in Mexico, truly in love and happy. 
Almost six years ago, I had just gotten out of a less-than-perfect relationship with a guy who needed to learn a thing or two about dating and how to take his ego down a notch. 
It was my first real relationship and I knew it wasn't perfect, but I ignored the advice of my best friends for far too long (thanks Anna, Brooke, Cam, Renee, Maddie, Mia & everyone else so so much!).
Even after my sorority had a "Healthy Relationship" clinic and our relationship didn't check a single healthy box, I was too far in denial. Like so many young college-aged girls, I was comfortable, thought I was happy at the surface, and believed at some point it would be a better relationship.
The Turning Point:
Thankfully, at some point soon after I graduated college, I hit my breaking point and did what I thought I'd never do – I ended it.  Finally at peace with my decision and with having fun being single, my friends convinced me to get set up on Bumble, a dating app where both halves have to swipe right and the woman has to reach out first – just for fun, of course.
I had my fair share of matching with the guys who responded with the "hey" or "what's up" that I ignored. I saw plenty of shirtless pictures or guys holding big fish. It was fun, but nothing I was looking for. 
Where it Began:
Then this guy came along with truly cool pictures – hiking, mountains, the beach – and a fun intro: "Hi, I'm Sam. I'm 6'4" and love Pacifico". I don't drink beer and had no idea what Pacifico was, but I looked it up and responded accordingly with "Hi, I'm Lily. I'm 5'6" and love Pinot Grigio". Apparently my snarkiness was really attractive.
From there, the messages kept flowing, but I was convinced I wasn't ready for a date with a stranger.
A Shared Passion for Travel: 
We discussed travel goals and I told him how I love waterfalls and dreamed of visiting Multnomah Falls in Oregon one day. I must have impressed Sam with my travel dreams because soon after, he asked me out for dinner.
I didn't respond.
He messaged again providing some dates.
I said I couldn't because I was going to Chicago.
Sam decided to try one more time. He messaged that if I hadn't gotten lost in Chicago, he'd still love to meet up.
He'd soon learn that I'm always lost, even in my own backyard, and had indeed missed the bus home from Chicago because I was on the wrong side of the station.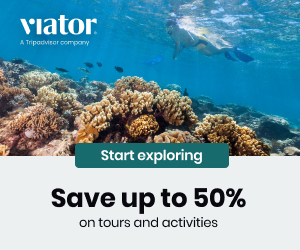 I decided to give him a try. 
Our First Date:
Our first date was awesome and lasted almost three hours at a local brewery in Madison. Drinks turned into dinner, followed by a couple more drinks. By the time we left, I felt like I knew this guy and gave him a hug.
And thank goodness I did! Sam later told me if I wouldn't have given him a hug after three hours he would have assumed I wasn't interested – what?!
Over the next several months, we saw each other at least every other night after Sam got off of work. We talked, we dreamed, we planned travel, we worked, and eventually we actually traveled. Most importantly, we truly enjoyed each other's company. 
Our First Vacation:
When Sam and I first met, he was already traveling quite a bit on his off days. I, however, was broke from just graduating college and had not yet done much traveling. The true relationship test for Sam was to see if I was a compatible travel partner.
After three months of dating we went on our first trip together to South Florida and Everglades National Park. My mom was beyond nervous to have this guy I barely knew taking me to a place famous for alligators, but the trip was wonderful.
We stayed at a cheap hotel, drove 2+ hours to the park each day, and did so much hiking. Our big excitement of the trip was biking the Shark Valley Loop and seeing at least 50-100 gators. It was the perfect first trip – right in budget, adventurous, outdoorsy, and easy. We traveled well together and that was so important to both of us.
Adult Decisions:
Our First Home:
In 2019, we made the big leap and decided to move in together. Not only did we want to share a place, we bought our first home. There was a learning curve as Sam came with no furniture and wasn't keen on spending money on "material possessions". I also realized how much he really eats when we agreed to split the grocery bill and I started paying triple what I used to spend on food.
Sam learned I do not love to do the dishes or cook anything, but I am obsessive about cleaning toilets. While we had our disagreements learning the ins and outs of living together, we had so much fun figuring each other out. 
Our First Puppy:
I somewhat shocked Sam when two months after moving in together I told him I found a litter of goldendoodles I really wanted him to consider. Now, owning a dog was never on Sam's radar until he met me and I told him all about my love of dogs on our first date. It was a long shot, but after a lot of discussion, some tears (from me), and several Chewy boxes later, we drove to Neillsville, Wisconsin to pick up our sweet Willow. While it took a few months, Sam and Willow bonded and are now the best of friends. 
Our Wedding:
In 2020, Sam proposed next to a stunning waterfall in Idaho during our 10-day road trip across the Great Plains. It was just the two of us and a roaring waterfall – absolutely perfect. We only took a few pictures of my hand with the ring on it against the waterfall backdrop, along with a semi-decent selfie– all we needed to remember a perfect day.
Because planning a wedding wasn't enough, 2021 saw us move into our new house that we built. During the pandemic, I was switched to a remote work environment like so many others, giving me way too much time at home to think about all that I'd love in my dream house. Sam and I were both blessed to keep our jobs and without much travel, eating out, and other expenditures, I was able to work the numbers to prove to Sam we could afford to build. It ended up being one of the best decisions we've made as a couple – we love our house and the memories we've made here.
Three months after moving into our new home, we got married in one of our favorite places – Jekyll Island, Georgia. To let you in on a little secret, our wedding was actually planned and budgeted for before we even got engaged. Sam and I both share this trait to plan and budget (maybe obsessively) so we wanted to make sure we could afford the wedding we wanted.
We kept it small – just our immediate family of 12 people – and got married in the morning with a lunch celebration rather than a big reception. We saved a lot of money doing it this way, but had the best time on a vacation with some family who hadn't been out of their home state in years. My 42-year-old sister even got to see the ocean for the first time!
Our Mexico Honeymoon:
In March 2023, almost two years after our wedding, we took our honeymoon to Playa del Carmen, Mexico and had the most marvelous time. In typical Sam and Lily fashion, we arrived at the airport for our flight three minutes before the hour cut-off for international check-in. 
We spent eight days exploring the city, snorkeling the turquoise waters, lounging on the beach and doing what we do best in our relationship – talking for hours about our goals and dreams. The only thing that would have made the honeymoon full-circle would have been a cold Pacifico for Sam – darn celiac diagnosis! 
Thoughts on Marriage:
I'd love to sit here and say that our relationship is perfect. The above paragraphs highlight so many of the positive memories of our relationship. It often feels that way and it's certainly a complete 180 from my previous relationship. However, relationships and marriages take work. They take communication and effort every single day. There will be disagreements and fights. Any couple that tells you they've never had a fight is lying, unless they don't talk or have a superficial relationship (the fighting should be respectful, of course!).
I could go on and on about marriage, but that's a topic for another post. For now, I'll leave it at how so very grateful I am to have met Sam and I'm so excited for all of the adventures that lie ahead for us.
As a reminder, when you make purchases through the links in my post, I may earn commissions at no additional cost to you. As an Amazon Associate I earn from qualifying purchases. As always, I only provide links to products and services I recommend. Read my full disclosure here.