Planning a vacation can be confusing, time-consuming, and exhausting. Consider heading to an all-inclusive resort to alleviate many of the trip-planning burdens. Often located in tropical locations, the resorts include all-you-can-eat food and drinks, pools, activities, and beach access. You might be asking, are all-inclusive resorts worth it? 
This post dives into everything you need to know about all-inclusive resorts, including locations, booking, common amenities, and overall value. 
When you make purchases through the links in my post, I may earn commissions at no additional cost to you. As an Amazon Associate I earn from qualifying purchases. As always, I only provide links to products and services I recommend.Read my full disclosure here.
What are All-Inclusive Resorts?
All-Inclusive Resorts are vacation properties where you pay for everything upfront. By everything, I mean your room, all food, alcoholic and nonalcoholic beverages, hotel activities, and any additional amenities offered by the resort. Flights ARE NOT included in booking costs and must be arranged separately. When you get to the property, you can check into your room and lock your wallet in the safe because as long as you stay on property, you shouldn't need it for the entire trip. 
Most properties offer tons of different room options with varying price points. Those looking for budget-friendly options can book a courtyard view room or opt for a room further from the beach. If you have more to spend, consider splurging on an ocean view room with a balcony or a swim-up room. Of course, room options vary per resort.
The properties have everything you need for a great vacation. They are known for their buffet-style restaurants with options-galore and numerous bars around the property. Many also have additional specialty restaurants where you can have a more typical dining experience with a served meal. 
All-inclusive resorts also have their own on-site activities. The outdoor areas of resorts are a major selling point and many properties have gorgeous pools. Some resorts also offer weekly pool parties with foam, daily dart games, and aqua zumba classes. Many also provide free snorkeling gear, depending on the location. 
Most resorts offer nightlife ranging from dance shows to karaoke nights. Some even have clubs if you are looking for the true nightlife vibe. 
All-Inclusive Resorts and their amenities vary greatly by brand and location. It is crucial to do your research before you go so you don't face any unexpected surprises upon arrival. Be especially selective if you are traveling with kids as several resorts are adults-only, and the ones that aren't vary drastically in their kid-friendliness. 
All-Inclusive Resorts are not Created Equal!
When searching images of all-inclusive resorts, you'll find beautiful white-sand beaches, turquoise waters, lavish resorts with gorgeous pools, and delicious-looking food. However, be warned that resorts vary tremendously in their property upkeep and on-site offerings. While one resort may have 6 onsite restaurants and bars, the one next door may just have the buffet. One may have a beautiful beach while the one across the island may have a seaweed-covered beach. It definitely pays to do your research before you book your vacation. I rely heavily on Tripadvisor, Apple Vacations and Oyster when reviewing resort options to help pick the best one for my price point and preferences in a property. 
Where are All-Inclusive Resorts Located?
All-inclusive resorts are most commonly located in warm-weather destinations, making them incredibly popular in the winter months (December – April). They are common in places like the Caribbean, Mexico, Turks & Caicos, Aruba, Jamaica and the Dominican Republic. 
Many all-inclusive resorts are beachfront so the journey to the beach every day is only a short walk away. If a beachfront property is very important to you, make sure you thoroughly review the hotel description for the words "beachfront". Any descriptions like "across from", "beach access" or "oceanfront" may indicate that the property is not on the water, or is on the water but does not have a usable beach on the property. 
I have stayed at all-inclusive resorts in Punta Cana, Jamaica, Cozumel, and Playa del Carmen and each has their unique touches based on the location, but the resorts themselves are all very similar. 
When to Visit:
All-Inclusive Resorts are going to be busiest, and most expensive, between Winter Break (Christmas) and Spring Break (Easter). Late spring through early fall tend to be cheaper, with the cheapest prices found during hurricane season (June-November).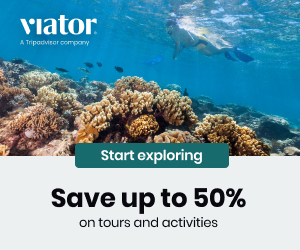 Is Food and Drink Really Included?
Yes, a true, reputable all-inclusive will include all food and drink options in the booking price. You should not have to spend anything additional at the resort (aside from if you choose to tip). Pay attention to the fine print when booking for any resort fees, charges for premium alcohol and additional fees to eat at specialty restaurants (aside from the buffets). 
Is the Food Actually Good?
I can only speak from personal experience on this one, but I find the buffet food to be surprisingly good. As one can expect, it can sometimes be warm rather than hot, but I've always been impressed with the variety. Even at more budget-priced resorts there have been so many options from meats, pastas, and sandwiches to breads, cheeses, fruits and salads. 
There is usually a little variety between breakfast, lunch and dinner so you're not eating the same food at each meal. Some resorts also do a nice job at having "themed" buffet nights which adds a bit of variety to the menu options. 
While I've always left each vacation incredibly full, don't expect Michelin Star quality from the resorts (maybe the luxury resorts, but I don't have experience there). The on-site restaurants are a good choice if you want something different and I've seen restaurants that specialize in steak, sushi, Mexican Food, Italian Food, among other options. 
Keep in mind that the on-site restaurants often require reservations, and if they allow walk-ins, you'll want to arrive early as there will often be a line of people outside waiting for the restaurant to open up. 
My top-recommendation for all-inclusive dining is to scour online reviews prior to booking. You'll get an idea if food is above average, just okay, or avoid-at-all-costs bad. Trust me, people have a lot to say about food online. 
What to Do at an All-Inclusive Resort:
Beach
One of the big attractions of all-inclusive resorts is the beach on the property. As I mentioned above, please triple check that your property is beachfront before booking if this is essential for your trip. I know I'd be devastated if I arrived and there was no beach or it wasn't accessible. 
Beaches connected to resorts are often lined with beach chairs and personal side tables. Many will also have cabanas and hammocks, although some resorts require reservations or additional fees for cabana use. 
If your resort offers water activities, you'll typically find the stand on the beach by the water. I've been at resorts that offer free snorkeling gear, kayak rentals, and basic scuba lessons. Others offer on-site parasailing, boat tours, and more (for a fee). What's available from your hotel beach will depend on your resort, the location, and overall vibe (a peaceful resort is not likely to have a bunch of adventure activities available directly off the property). 
Pool
In my opinion, all-inclusive resorts have some of the most amazing pools. Seriously, Google "best all-inclusive pools" and you will be amazed. You'll find everything from expansive fresh water pools to pools complete with a lazy river. I've found that even the lower end properties generally still have really great pools. 
Depending on the resort you are staying at, you may have the option to enjoy quite a few pool activities. Aqua aerobics and aqua Zumba are both very popular and I highly encourage everyone to give them a try. 
You'll typically find at least one pool bar as well. Later in the afternoons this area of the pool tends to get energized and there may be games or various activities involving alcohol. 
Fitness
With all-you-can-eat food and drink, some of us might need a gym to get a little exercise in. I highly recommend taking part in the on-site activities hosted by the resort, but if you need to get on a treadmill or lift some weights, you should be covered. 
The lower-end resorts usually put a lot more money into their outdoors spaces than they do their gyms so expect just the basics at a lot of properties. 
Spa
Many resorts offer spa services, all for an additional fee (unless you book a package of some sort). I've only ever gotten pedicures while at a resort, and they were very similar to ones I've had back home. However, I have heard people rave about massages they've received at various resorts. Again, I'm sure this varies greatly by resort so please research ahead of time and read reviews to make sure spa services are worth it. If spa services are really important to you, there are resorts that specialize in these services so make sure you narrow your property search accordingly. 
Night Shows
A special treat many resorts have are night shows or night events. During the day the staff engage guests with pool games and parties, and at night the staff shows off their talents with various shows. Some events are themed like Michael Jackson or Bob Marley night, while others showcase a talent like water ballet or acrobatics. One resort I stayed at even brought in a really great saxophone player – that was a fun night! The one downside of the night shows is they usually don't start until well after the dinner hour – around 8 or 9pm – so if you're not a night-owl you might miss these shows. I didn't see a single one on my last week-long trip.
Nightlife
Some, but certainly not all, all-inclusive resorts have on-site nightlife such as a club or late-night bar. You may need to ask about this specifically when booking if it's important to you, but know it is an option some places. One resort I stayed at had a disco club that was open until 2am each night. Another resort had a 24 hour bar, but with a laid-back vibe rather than party feel.
Excursions
If you're looking to get off the resort for a bit, consider booking an excursion – snorkeling, off-roading, horseback riding, rum tasting, etc. Excursions can be booked ahead of time, like when you are securing your trip, or at your resort through a third-party vendor. I usually book my all-inclusive trips through Apple Vacation and will use one of their on-site representatives to book my excursions. I prefer booking this way to help guarantee the activity is safe/reputable and in case I have questions or need to cancel/switch days.
Excursions are a great way to break up your trip and experience the location in which you are vacationing, but they tend to be very pricey. Pay close attention when booking to see if your excursion includes food/drinks so you can prepare accordingly. Also be prepared to tip your excursion guides. 
Are All-Inclusive Resorts Right for You?
If you love hot weather, beaches, the idea of eating and drinking all you want and relaxing for several days, an all-inclusive is probably right up your alley. It's the perfect option if you're looking to relax and decompress without having to plan much at all once you arrive. 
I don't recommend them, or at least long trips, for those who are used to doing a lot of different activities when they travel or trying something new each day. The activities resorts offer can sometimes seem repetitive, especially if you enjoy adventure and the thrill of new things. The excursions are expensive and if you don't spend much time at the resort, it's probably not worth the cost. 
Summary:
Like any vacation you plan, there are pros and cons to selecting an all-inclusive resort. I've summarized a few big pros and cons below.
Pros of All-Inclusive Resorts:
Everything is paid for before you go – no "surprises" 
You never have to leave the resort property since everything is on-site 
You can eat whenever you are hungry 
Resorts offer daily activities, depending on where you are staying 
Once you arrive you can just relax for your stay without trying to plan additional aspects of your trip
Cons of All-Inclusive Resorts:
Food can be repetitive 
May not eat nor drink enough to make price "worth it" 
Excursions are generally very expensive 
Some resorts have limited drink choices or only offer "rail" options 
Some get bored since there may be limited activities 
If you ultimately decide an all-inclusive resort is right for your next vacation (I love them!), choosing the resort that best meets your vacation needs will be key – price, location, amenities, food options, etc. I've also prepared a list of all the must-have items for your all-inclusive vacation to help with your packing needs.
Happy Vacation Planning!
-Lily