Nestled right on the beach and just a short drive from Old San Juan, Puerto Rico, Courtyard Isla Verde Beach Resort (a Marriott property) is a dreamy, relaxing escape. 
The hotel has everything you need if you're looking for an effortless vacation, but is close to town and plenty of activities if you're looking to add a bit of adventure to your getaway. 
My husband Sam and I spent three nights over Thanksgiving 2022 and had the absolute best time. We found a good deal using points for one of the nights and paid cash for the additional two nights. We hit Platinum Status with Marriott Bonvoy the prior year so we had 5 Suite Night upgrades available. We opted to put in for the two nights that we paid cash for and were notified prior to arrival that the hotel was able to accommodate our request. 
On the day of check-in we arrived really early and they did not have a room ready for us yet, but we were able to store our bags and go enjoy the pool and beach amenities. When our room was still not ready by guaranteed check-in time (4pm), they gave us the initial night as a suite night for free. It's been one of our favorite hotel stays thus far. 
As always, all reviews and opinions are my own. This hotel stay was not hosted or sponsored.
When you make purchases through the links in my post, I may earn commissions at no additional cost to you. As an Amazon Associate I earn from qualifying purchases. As always, I only provide links to products and services I recommend.Read my full disclosure here.
Courtyard Isla Verde Beach Resort: Hotel Rooms
The resort offers rooms at varying price points – many with stunning views. While Sam and I did upgrade to a suite, I peeked in a standard room and it was just as fresh and clean. 
One of the downsides of the hotel is that they charge for every room option (high floor, away from elevator, view, etc.) so it feels a little bit like you're being nickel and dimed just to get an enjoyable room. 
All rooms either have a king or queen bed, or two queens. The basic rooms offer a limited view and are on a lower floor, closer to the elevator. At a higher price point, you can upgrade to a room with a view, a higher level, and/or away from the elevator. At the highest price points, you can select an ocean front room or an ocean front suite. 
Our sweet was oceanfront and had window views of the pool, the airport and beyond. I will note that if you get a pool view, depending on what floor you are on you may see a lot of unattractive rooftop along with the pool. Not necessarily bad, but something to be aware of if you are expecting a stunning pool view. 
I also found the airport view, or what the hotel would consider "limited view" to be quite beautiful. It's more of a city view, but you get gorgeous mountain shadows in the distance. You also have access to the entire property so you can take in the beach all you want. 
A great way to budget a nice beach vacation is by avoiding the additional fees for a room with a view and I think any room you choose at the Courtyard Isla Verde would be great. 
Onsite Food & Beverage Options:
The hotel offers several onsite food and drink options so you never have to leave the property should you want to stay. The selection is pleasantly varied and prices typical for resort dining.  
Sirena Restaurant: This restaurant is a favorite with hotel guests, providing an oceanfront dining experience with seafood options.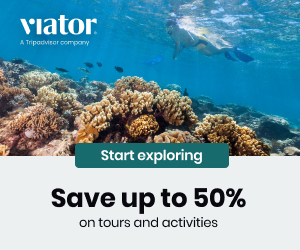 Cafe Tropical – A casual, Caribbean-themed restaurant that is open for breakfast and dinner daily.
Papaya Oceanfront Grill – My favorite option while I was there, Papaya Oceanfront Grill offers poolside dining and drink options. Food is pretty standard: hamburgers, mozzarella sticks, french fries, etc.
Picante Lounge – Located next to the lobby, Picante Lounge provides a large bar and seating area with a stage for live music. We did not hear any live music during our trip, but were told it can be heard most weekend evenings.
Bananas Ice Cream Parlor and Cafe – Parents and kids will love the options here: coffee and treats. Grab a latte in the morning or a delicious shake for an afternoon snack, or for breakfast- I'm not judging!
Courtyard Isla Verde Beach Resort Amenities:
While the rooms are top-notch at this Isla Verde Beach resort, the amenities are where the hotel really shines. The pool is open 24/7 which is a rarity at most hotels. 
Resort Amenities:
Pool: The pool is open 24/7 and has plenty of chairs all around the pool deck. There is also a pool bar that is part of the Papaya Oceanfront Grill, which Sam and I really enjoyed. They had the World Cup on a small TV in the bar so Sam was happy to sit in the water and enjoy a cold beer (pre-Celiac diagnosis).
Fitness Room: The hotel gym is spacious and has plenty of treadmills, ellipticals, bikes, and free weights. I was pleasantly surprised by all the gym had to offer.
Hammocks: One of the special touches I really loved about the resort were the beach hammocks between the beach area and the pool. You'd find people taking an afternoon nap or reading a book after breakfast.
Beach Chairs & Umbrellas: If you want to relax on the beach, the hotel provides complimentary chairs and umbrellas, which staff will set up for you. The Isla Verde beach is large and swimmable, providing tons of fun.
Casino del Sol: Located in the lobby of the property, the casino offers slot machines, poker tables and roulettes.
Additional Details:
Resort Fee of $45 USD per day: This fee included one welcome drink per guest, bike rentals, poolside service, and beach chairs/umbrellas. The website lists enhanced wifi, but you can get that for free by joining the Marriott Bonvoy program. The hotel does offer other perks like cocktail making classes, but I feel it is a hefty price to pay.
No Airport Shuttle: The property is under 5 miles from the airport, and yet it doesn't offer a shuttle. This surprised me and I was slightly disappointed, especially given the hefty resort fee.
$25 daily parking fee ($30 for Valet)
Overall Thoughts on Courtyard Isla Verde Beach Resort: 
Overall, I really loved this hotel and would stay there again. Once you get past the resort fee on top of the room price and add-ons like parking, the resort property is gorgeous. The pool is well-kept and the beach area is clean and peaceful. 
I enjoyed the pool bar and especially appreciated that they considered families and non-drinkers by separating the pool areas for those who didn't want to be by the bar. 
I was concerned about the hotel being so close to the airport, but was pleasantly surprised that the flight noises were not very noticeable. If you are super sensitive to sounds, you might find the takeoff and landings a nuisance. However after the first couple departures and arrivals, I did not notice them anymore. 
San Juan is a beautiful city to visit and this resort is an excellent option. Check out my 5-Day San Juan Itinerary as you plan your next adventure.
Enjoy the Sun!
-Lily