About Grand Canyon:
Less than five hours north of Phoenix, Arizona, you'll find one of the seven natural wonders of the world – the Grand Canyon. Also a National Park, the Grand Canyon is 227 miles long and over ten miles wide (on average). Pictures simply don't do this canyon justice. It's absolutely gorgeous and massive and I recommend it be on your bucket list if you haven't visited already. While unbelievably impressive, there are some very important items to know before visiting this amazing place. With a little planning, you'll be able to fully enjoy your trip to the Grand Canyon.
Sam and I had two half days and one full day to explore the Grand Canyon's South Rim. We felt this was the perfect amount of time to get a taste of the Grand Canyon, although one could always spend more time exploring, especially since we didn't venture to the North Rim. If you want to do long hikes, I'd definitely recommend more time. Below I share our three-day Grand Canyon South Rim itinerary. 
** This guide only covers the South Rim. 
When you make purchases through the links in my post, I may earn commissions at no additional cost to you. As an Amazon Associate I earn from qualifying purchases. As always, I only provide links to products and services I recommend. Read my full disclosure here.
Day 1:
On our first day, we arrived at the Grand Canyon late-afternoon. We drove from Phoenix, through Sedona and Flagstaff for about a four-hour drive. 
Since the sun had started to go down by the time we arrived and it was getting much cooler, we decided to head straight for the South Kaibab Trail. 
Many people will park at the Visitor Center and then take the free park shuttle to the South Kaibab Trailhead due to limited parking. Since it was later in the day, we tried our luck at parking and found a spot nearby. The parking lot closest to the trailhead has about 8 spots and is around a 15-minute walk from the trailhead. 
The South Kaibab Trail is 6.3 miles and goes down into the canyon to the Colorado River. The trail is largely unshaded and there is no water along the route so bring plenty with you. 
While the trail will take you to the river, it is not recommended as a day trip since it is a very strenuous hike and is very hot. Luckily, the trail is broken down into several shorter segments for those wanting a taste of the trail. The hike to "Ooh Aah Point" is 0.75 miles (1.5 miles roundtrip) and is the perfect hike to experience the canyon. The segment offers incredible views and the "point" is a great place to watch the sunset. 
If you're looking for a little bit longer hike, continue to Cedar Ridge for a roundtrip total of 3.1 miles.  You'll descend deeper into the canyon for more stunning views. There is also a bathroom at Cedar Ridge, although it was quite smelly (chemical smelly) when we were there. 
If embarking on this trail, please remember that hiking in the Grand Canyon is tough because you descend down first. You still have to come back up. The heat and elevation make it difficult so please do not go further than you'll be able to hike out. 
The hike was gorgeous, but tough. You gain elevation quickly – that's certainly not exaggerated. It's definitely worth it, in my opinion, but make sure you are adequately prepared not only physically, but also with plenty of water. 
After the hike we headed to Tusayan and got dinner before checking into our room at the Red Feather Lodge. We ate dinner at Plaza Bonita and I highly recommend the margaritas. 
Day 2:
After completing a tough hike the night before, we spent the second day doing the more "touristy" side of the Grand Canyon. We got breakfast at Foodie Club and headed to the entrance. We parked our car at the Visitor Center and explored the area. Here you'll find a visitor center with information about the park, suggested itineraries, and guides to answer questions. You'll also find a gift shop, nice bathrooms, a concession stand with food and bike rentals, and the shuttle stops.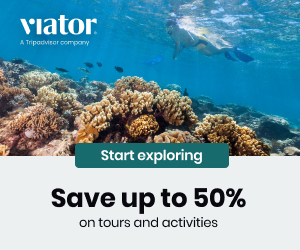 There are also several overlooks just a short walk from the Visitor Center. One of the park's most famous points, Mather Point, is about a 5-10 minute walk. Here you'll find incredible views of the canyon for miles. While it's a large overlook, it can still get very crowded. There are several clearings along the path for you to snap a photo. Please remember to be safe and use common sense when trying to get the perfect photo. 
About three quarters of a mile further is another popular overlook, Yavapai Observation Station.  Here you'll also find the Yavapai Museum of Geology filled with history of the geological wonders that make the Grand Canyon.
After enjoying several viewpoints, we ventured to Market Plaza where you'll find a general store, a Post Office, Mather Campground, and Yavapai Lodge. There are also several eating options here. We checked out the general store and walked around a little before hopping back on the shuttle and heading back to our car.
Exhausted from the previous day's drive and hike, we found a small parking lot with picnic tables where we enjoyed a picnic lunch consisting of sandwiches. We were pleasantly surprised to find elk grazing in the grass nearby which made for quite a picturesque lunch. After lunch we decided to call it an early day and headed back to the Red Feather Lodge to relax.
Dinner consisted of more delicious Mexican food from Plaza Bonita and we walked to the Steakhouse afterwards for a drink at the bar.
Day 3: 
After resting our legs on the second day, we got up early on our last day and headed to the Bright Angel Trailhead. Perhaps the most popular trail in the park, it gets crowded quickly and parking can be a challenge. There is plenty of parking around the trailhead, especially if you're willing to walk. Otherwise, the shuttle will bring you here from the Visitor Center or several other locations within the park. 
Similar to the South Kaibab Trail, the Bright Angel Trail will take lead you down to the river, but again, that is not recommended as a day hike. There are several spots on the trail for you to hike to depending on how far you want to hike. For example, just 0.2 miles down is a doorway feature that many people check out and then return to the trailhead. Sam and I went two miles roundtrip as we started a bit late and the heat really is no joke. 
After our little hike on Bright Angels Trail, it was just past noon and so we started back toward Phoenix, making a stop at Bearizona Wildlife Park in Williams and another stop in Flagstaff for dinner. 
Planning Your Trip to the Grand Canyon South Rim:
What to Bring:
Water – it gets hot, especially in the summer months when tourism is highest. 
Walking Shoes – A must for exploring the canyon as it is quite a bit of walking even just checking out the overlooks.
Hiking Boots – I highly recommend hiking boots if descending into the canyon. I wear Merrell Women's Moab 2 Mid and absolutely love them. They are comfortable for long hikes, very supportive, and have great traction.
Hotels Near the Grand Canyon:
Grand Canyon National Park offers several lodging options both in the park and in the nearby town of Tusayan. Reservations fill up quickly so make sure to plan well in advance to ensure you secure the lodging of your choice.
In the Park
Outside the Park
Where to Eat When Visiting the Grand Canyon:
There are several spots to grab food both inside and outside of the park. Below are some options we checked out, but the Grand Canyon National Park website includes several more.
In the Park
Canyon Village Market
Delicatessen
Bright Angel Bicycle Rental and Cafe
Outside the Park
Foodie Club
Plaza Bonita
Tusayan Steak House
What to Expect:
Entering the Grand Canyon:
Part of enjoying Grand Canyon National Park means entering in a timely fashion. Currently there is no entry system required when visiting the park and you do not need shuttle passes, so people are free to come and go as they wish. Most people visit the South Rim, which means entering the park just to the north of Tusayan. Visitor guides and the park website warn of long lines and 2-hour waits, especially during the summertime between the hours of 10am and 5pm.
To avoid wasting two hours in traffic, consider entering the park before 10am or after 5pm. You'll get the added benefit of avoiding the hottest parts of the day. Consider buying a National Parks Pass ($80), also known as an America the Beautiful Pass. While considerably more expensive than Grand Canyon National Park's entrance fee ($35), it allows you to sail through the entrance station in a special lane. You simply pull up to the window, show the ranger your pass and ID (driver's license, state ID, passport, etc) and you're on your way. Visiting two additional national parks, national monuments, national forests, or other public lands will allow the pass to pay for itself.
Exploring the Canyon:
The Grand Canyon has the South Rim and the North Rim, with most people exploring the South Rim. The hiking distance between the two rims is about 21 miles, however, driving will take you at least 4.5 hours as it is 220 miles. Once you enter the National Park, you are free to explore. Whether you want to drive around the park (as permitted) or take the shuttle is up to you, although the shuttle is able to go to certain trailheads that vehicles are not allowed.
The Canyon is busy, especially in the summer months. Be prepared for crowds and longer lines as you explore and try for photo ops. Certain spots like Mathers Point, Bright Angel Trailhead, and the Visitor Center are going to be very crowded, but once you venture out on to trails or to less known viewpoints, the crowds will start to dissipate.
Overall, the Grand Canyon is a stunning National Park and there is so much to enjoy! With advanced planning and a little patience, you are sure to have a wonderful trip.
Happy Adventuring!
-Lily