With museums, nightlife, professional sports teams, and plenty of parks, Atlanta has you covered. Boasting a population of over 490,000 people, "A-Town" offers the fun and excitement you'd expect from a city twice its size. Whether you want a stroll through city gardens, the roar of major league fans, or crowds at the clubs, Atlanta guarantees you'll forever have Georgia on your mind.
Atlanta is one of my favorite cities for a weekend getaway. It's a short non-stop flight from Madison on Delta Airlines, or from Milwaukee on Southwest Airlines, and you don't necessarily need a rental car.
Continue reading for a detailed guide to the city and the its most popular neighborhoods. Check out my post on the 10 Best Things to Do in Atlanta for a brief overview of some of the city's most popular activities. 
As a reminder, when you make purchases through the links in my post, I may earn commissions at no additional cost to you. As an Amazon Associate I earn from qualifying purchases. As always, I only provide links to products and services I recommend. Read my full disclosure here.
How to Get to Atlanta: 
Atlanta is home to the busiest airport in the world so no matter where you come from, you're sure to find a flight. Hartsfield-Jackson Atlanta International Airport offers nonstop service to over 150 domestic and 70 international destinations. While that might seem like a whole lot of flights, don't let that deter you. The airport runs very smoothly and there are plenty of staff throughout the terminals to assist if you need directions or guidance. 
Atlanta is also the hub for Delta Airlines, so you are definitely in luck if they are your carrier of choice. 
With so much to do in and around Atlanta, road-tripping to the city is also a great option. Below are the distances from a few of the major cities nearby. 
| | | |
| --- | --- | --- |
| City | Miles | Time |
| Birmingham | 147 | 2.5 hours |
| Jacksonville | 175 | 3 hours |
| Nashville | 250 | 4-5 hours |
| Charlotte | 245 | 4.25 hours |
| Savannah | 248 | 4 hours |
Best Time to Visit Atlanta:
Atlanta's peak season is the summer months when the city is busy with events and festivals. Temperatures average in the upper 80s June through August so be prepared for the heat, but also a lively city. Expect higher flight and hotel costs during this peak season as well. 
Winter is the off-season when the lows drop to the 30s and it's not necessarily pleasant to be exploring outside. However, with all that Atlanta has to offer in terms of attractions, events, dining, and nightlife, you'll find plenty to do during these months while saving a great deal. 
Public Transportation Options: 
Atlanta has a public rapid transit system – MARTA. It goes from the airport and through Atlanta's popular neighborhoods. Each ride is $2.50, or you can purchase a week-long unlimited pass. I recommend having a rough idea of the rides you'll be taking so you know whether it's a better value to purchase individual rides or the unlimited pass. 
Sam and I either get a rental car or stay in a central location so that we can walk and get affordable rideshare options like Uber. We opt for a rental a lot of the time since we will often leave the immediate city-area to explore parks and do some hiking. 
Best Places to Stay:
Atlanta is made up of several neighborhoods with the downtown area being the most popular for visitors.  However, no matter where you choose to stay, you'll have plenty of wonderful lodging options. 
I'd recommend staying downtown if you do not want to get a rental car or plan on doing a lot of the museums and attractions the city offers. During my latest trip, I stayed at the Renaissance Atlanta Waverly Hotel & Convention Center because it was within walking distance to Truist Park where Sam and I were catching a night game and the hotel had a great point value.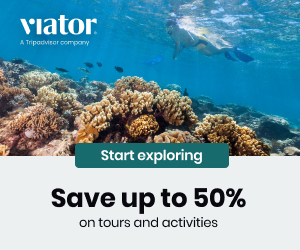 I've organized the post by neighborhoods since I'd suggest trying to stay near the activities you plan to do – Atlanta traffic can be gnarly. Please keep in mind I'm providing a sample of Atlanta's neighborhoods as I haven't been to all of them yet myself. I'll continue adding to this post as I visit more of the city. 
Where to Stay in Atlanta:
Downtown Atlanta:
Downtown Atlanta is one of the most popular areas for visitors, largely because it houses many of the city's main attractions and is home to the NFL stadium (Mercedes-Benz Stadium). 
If you plan on enjoying many of Atlanta's downtown attractions, consider purchasing an Atlanta CityPASS. The CityPass allows you to save up to 44% at five attractions. It can be a great deal if you are planning to visit the listed attractions, especially the Georgia Aquarium which is the priciest attraction. Below are the attractions that are included with the Atlanta CityPASS.
Visit Each Attraction Below:
– Georgia Aquarium
– World of Coca-Cola
– Zoo Atlanta
PLUS Admission to two of the following:
– Fernbank Museum of Natural History
– College Football Hall of Fame
– National Center for Civil and Human Rights
Sam and I were gifted passes during our recent trip to Atlanta and they worked great. However, it is near impossible to fit all five attractions and get your money's worth in the two days that we were there. The pass is good for nine days once you visit the first attraction, so if you are going to be in Atlanta for a few days, I'd definitely check it out.
Centennial Olympic Park is a free, public greenspace that is open to visitors daily from 7am to 7pm. The park was built by the Atlanta Committee for the Olympic Games in preparation for the 1996 Summer Olympic Games. Today, the park gets millions of annual visitors and is surrounded by some of Atlanta's most popular tourist attractions. 
One of the busiest Atlanta attractions is the accredited Georgia Aquarium that is beloved by kids and adults. The World of Coca-Cola is a fan-favorite, although more on the touristy side. The Children's Museum of Atlanta is a great option for those traveling with younger kids. The National Center for Civil and Human Rights also surrounds Centennial Olympic Park and is an eye-opening museum and interactive exhibit.
There are several hotels around and near Centennial Olympic Park, possibly eliminating the need for a rental car. The Hilton Garden Inn Atlanta and Hyatt Place Atlanta/Centennial Park are more budget-friendly options, while the Omni Atlanta Hotel at CNN is a little higher-end. 
Near Centennial Park in the Castleberry Hill neighborhood is the Mercedes-Benz Stadium. Home to the NFL Atlanta Falcons and MLS Atlanta United, the stadium opened in 2017 and holds 71,000 fans. 
History buffs will love visiting the Five Points neighborhood in downtown Atlanta where the state capitol and museum are located. The Georgia State Capitol is open to the public Monday to Friday from 8am to 5pm. It's closed on weekends and holidays. The Georgia Capitol Museum is located on the fourth floor of the building and is open to the public during normal visiting hours. 
Groups of five or more are welcome to schedule a guided tour, while all others are welcome to take a self-guided tour with access to all of the same areas as the group tour. 
Midtown: 
Midtown is another great area to visit with quite a few popular attractions. My favorite place to visit, the Atlanta Botanical Garden, is found in this neighborhood. The garden is huge and often has special exhibits. Currently, Thomas Dambo's Trolls: Save the Humans exhibit is in the garden and you'll find his large trolls throughout the garden. You can see the trolls through September 17, 2023. They are incredible. Piedmont Park, which also houses the Atlanta Botanical Garden is also located in this neighborhood. 
The Center for Puppetry Arts is a unique place to visit and has a museum along with performances. Although not quite my taste, it gets rave reviews and is a fun place to visit. 
The William Breman Jewish Heritage Museum is also located in Midtown and provides a history of the Holocaust and Jewish heritage. Sam is Jewish and always appreciates visiting museums or memorials to learn more about his religious past. 
Grant Park:
Grant Park is a 131-acre green space surrounded by homes, restaurants and local activities. The Grant Park neighborhood is also home to one of Atlanta's oldest attractions – Zoo Atlanta, which was founded in 1889. The zoo is home to hundreds of animals including orangutans, giant pandas, elephants, and more. 
The Battery:
The Battery in Atlanta is a mixed-use development that is home to shopping, restaurants, bars, and the Atlanta Braves. There are several hotels in the area, including the Renaissance Atlanta Waverly Hotel & Convention Center where Sam and I stayed most recently and the Omni Hotel at The Battery Atlanta which has rooms that overlook Truist Park. 
If baseball isn't your thing, you'll still find plenty to enjoy in the area. It's a great place for an afternoon of shopping, followed by dinner and dessert or drinks. 
Destinations Near Atlanta: 
You can easily get to several great spots from Atlanta. If you have some extra time while visiting the area, consider taking a road-trip and exploring some of the awesome nearby places. 
A popular Atlanta outdoorsy destination is Cloudland Canyon State Park which is about two and a half hours from Atlanta. Here you'll find excellent hikes, beautiful waterfalls, and stunning views.
About two hours from the city is Tallulah Gorge State Park which also offers stunning hikes and views. This park is about 2 hours from the city and is the perfect halfway stop if you're headed toward Asheville. Asheville is under four hours from Atlanta and is home to the popular Blue Ridge Mountains. 
If you're looking for a national park, Georgia is home to the popular Smoky Mountain National Park which is just a a three-and-a-half hour drive from Atlanta. The mountains are a great retreat if you are looking to escape the summer heat.
One of my favorite spots, Jekyll Island, is five hours away and is a beach destination that is great for a summer escape, but honestly, is just as pretty in the cooler winter months. Check out my destination guide and the 6 best things to do in the Jekyll Island to help plan your getaway.
Atlanta Summary:
Atlanta is a great city to visit whether you have a day or a week. The city offers great outdoor activities, family-friendly attractions, and year-round events to keep residents and visitors busy. As always, let me know if you have any questions on visiting Atlanta or suggestions for future visits.