Planning a Vacation on a Budget
Have you ever planned a vacation only to realize you couldn't afford it or came home with a lot more in credit card debt than anticipated? We've all been there at one time or another and it's not fun. However, planning a vacation on a budget doesn't have to be difficult and it is certainly not impossible.
I've spent the last several years figuring out the best way to travel on a budget while maximizing my vacation days and having the time of my life. My husband, Sam, and I generally travel once a month and no, we aren't rich. We both work full-time jobs, but we also have a mortgage, a high-maintenance dog, and the other typical expenses that come with being late-20 to early-30 year olds. Follow my steps to help plan the best vacation on a budget every single time. 
When you make purchases through the links in my post, I may earn commissions at no additional cost to you. As an Amazon Associate I earn from qualifying purchases. As always, I only provide links to products and services I recommend.Read my full disclosure here.
1. Establish Your Travel Budget
The first step to planning any vacation is determining your budget. This needs to be done whether you have $1,000 to spend or $10,000. You can plan a vacation on any budget, but this first step will guide the rest of your trip-planning process from if you can afford a fun day trip or a more costly beach destination. Take it from experience: there's nothing worse than getting so excited about a wonderful trip, only to realize there is no way to make the budget work. 
When setting a budget for your vacation, you'll want to make sure it is reasonable and that it accurately reflects your current situation. Last year you may have taken an adventurous ski trip to the mountains, but maybe this year you bought a new car or had some other big expenses and have to keep it more local. That's okay! Make an adventure out of what you can afford and have a blast no matter where you end up traveling. 
2. Gather Potential Vacation Dates for Your Trip
You can save a lot of money by being flexible with your travel dates. Make a list of all the possible dates you can travel so you can compare prices during those times. You might not have any flexibility if you already have the dates off of work or you have kids and have to accommodate breaks, but if you have wiggle room, this can greatly help with planning a vacation on a budget. 
My favorite time to travel is during the shoulder season – the period between peak and off-season – since crowds are minimal and the prices are usually much cheaper. This is a great time to visit places like national parks and popular amusement parks where crowds can dictate what you are able to enjoy. 
Another great tip is to take shorter trips like a long weekend, which cuts down on hotel and food costs. You'd be amazed at how much you can pack into a three-day trip.
3. Brainstorm Several Possible Vacation Destinations
Prices vary by season, events, and other factors so I suggest having 3-5 destinations you'd like to travel to and then compare prices for your dates available. 
For example, traveling to Florida or Arizona in the winter months is going to be quite a bit more expensive than going in the hot summer months. Ski destinations are also going to be a lot more expensive in the winter months, but destinations like Colorado and Utah tend to be more popular and thus more expensive than places like New Mexico. 
Personally, I have a note in my phone that lists all of the places I want to travel to in my lifetime. If I'm planning a trip and trying to come up with an affordable destination, I'll bring the list out and start checking prices. 
4. Find the Best Flights
*If you won't be flying, skip down to #5*
Once you determine potential travel dates and vacation destinations, you can begin planning the logistics of your trip, starting with transportation. Assuming you will be flying, I look up flights before I book any other portion of my trip. Why? Flights tend to be the most expensive portion of a trip with the least flexibility. While there are several airlines, most are either within a similar price range or offer vastly different service (Delta Airlines vs. Spirit Airlines). 
Start by getting an idea of flight prices by using Google Flights to see averages for the dates you have available to travel. With Google Flights you input your departing and arriving airport, dates, and whether it's roundtrip or one-way. It'll then search for flights among many of the top airlines such as Delta, American, United, and Spirit. Some airlines, like Southwest, are not included so you'll want to do additional research, but this gives you a great starting point.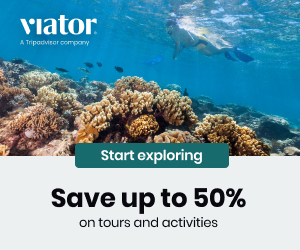 There are several other tools out there for finding flights and flight deals. Going (formerly Scott's Cheap Flights) is one of my favorite resources for finding flight deals. You can put in the airport(s) you want to fly out of and the company will send all the deals that they find out of that airport directly to your email. While it might not be specific to where you are going, it'll give you some great flight options, and who knows, maybe even send you on an adventure you hadn't planned. 
While they offer a paid Premium and Elite membership, their Limited membership is free and excellent for the occasional traveler. 
Skyscanner is also an excellent resource for finding flights and works similar to Google Flights. You'll be able to find the best flights from many airlines, giving you plenty of options. 
5. Search for Rental Car Deals 
Before you jump to booking a rental, make sure you really need a car. Consider things like rental car price, hotel parking fees, gasoline costs, what you need the car for, etc. Some destinations require a rental, but others are more affordable to just Uber or Lyft around town. If you decide you do need to rent a car for your vacation, make sure to check the prices at your destination to see if they are affordable on your dates. If not, consider choosing a new location or different dates. 
For rental cars, I love booking through Costco (membership required) because you can cancel and rebook at any time, and you get a second driver at no additional cost. Since I travel so much, I'm always checking to see if the price has dropped, and if it has, I'll cancel and rebook the rental car at the lower rate. 
AutoSlash is another good option for booking rental cars at a discounted price. I've gotten some great deals on rental cars through them, but I've always had a much longer wait at the rental car center than if I had booked through another company. If you're a patient person and can handle the line, this is a great way to save money – I'm not that person. 
Of course, you can also go directly through a rental car company, especially if you are a loyalty member. This is not always the most cost-effective, but may be beneficial if you receive certain rewards for doing so. 
Additional things to consider when booking rental cars are add-ons like insurance, toll passes, and pre-paid gas. Check with your insurance provider prior to travel to see if rental car coverage is included. If not, credit cards sometimes offer primary insurance coverage so check your cards before spending the big bucks. The other add-ons are a personal preference, although I always decline all options. 
6. Book Your Hotel or Vacation Property
Booking the hotel/lodging is my favorite part of trip planning, and it comes near the end of the planning cycle. This is because lodging options typically provide the most flexibility. If one option is too expensive, look at a different hotel chain. Or consider moving out of town a little further to a cheaper option. Sure, maybe you drive a little further each day, but the $50 dollars a night saved is likely worth it. 
There are several online booking tools that make finding affordable lodging a breeze. Hotels.com is a third-party booking site that is awesome for finding everything from discount hotels to luxury resorts. You'll find the major hotel brands and smaller local options on the site. 
I love booking stays through Hotels.com because for every 10 nights booked and stayed, you get an 11th night free (value is the average price of the 10 nights stayed). 
A great option for booking apartments, condos and entire homes is VRBO (Vacation Rentals by Owner) or Airbnb. Both are excellent choices if you are traveling with a large group or want amenities like a kitchen or private yard. 
Prices vary significantly with everything from very affordable studio options to stunning homes so you can pick whatever is in your budget. Keep in mind that many properties include an additional cleaning fee which varies per property. You'll want to factor this into your booking cost or you may receive a much larger bill than anticipated. 
I always recommend price-checking your selection against another site. For example, if you pick out a Courtyard Marriott on Hotels.com, check the Marriott website and make sure the price for that same hotel is less than or equal to what Hotels.com is offering. If it's more on your original site, you know it's not a good deal. 
7. Look for Restaurant Options
Planning food options ahead of time helps you stay within budget and ensures that you won't be scrambling to find food last minute. I get very hangry so this step is crucial in my vacation planning. 
My personal preference to help stay within budget is to eat a free or cheaper breakfast, an affordable lunch and then splurge a little on dinner. I also pack a few snacks in my suitcase: granola bars, nuts, crackers. This way I spend less on extras, eat a little healthier, and can spend more time enjoying my trip than looking for food. 
Some hotels offer a free continental breakfast which can end up saving you a lot of money (think about spending a minimum of $15/person for breakfast x a four-person family: that's $60 – for one morning!!). 
Finding food options likely won't be a problem in larger cities like Phoenix, Dallas or NYC and websites like OpenTable allow you to make reservations online at participating restaurants in advance, which I have found very useful. However, small towns like those around national parks are often limited in food options and may be far from one another. 
I recommend having 3-5 restaurant options for each day of your trip. They can be the same options if you don't mind eating at the same restaurant more than once. This way you know what is close, have an idea of price-range, and have back-up options in case one is too busy or closed. 
8. Book Activities – Free and Paid
Once you have your vacation destination and trip dates, you can start booking activities that you want to do. Tripadvisor is a great site to generate ideas of popular activities, parks, and museums in a given area. They also provide tour options. Two companies that book tours and activities are Viator (a Tripadvisor company) and Trusted Tours and Attractions. Make sure to check these sites before you travel to see what options are available and if you can snag discounted tickets, especially if you are traveling to popular destination like Boston, Chicago, Memphis, San Diego, Dallas, etc.
Remember that paid activities add up quickly. Many cities offer a lot of complimentary options so make sure you check for free museums, parks, gardens and other activities that pique your interests. 
When Sam and I travel, we each pick 1-2 paid activities, depending on the length of our trip and our budget, and then work those into our travel schedule. 
It can be hard not to go overboard with paid activities, especially if you have the mindset that you paid for the vacation so you might as well enjoy it. But you'll truly enjoy it a lot more if you go home feeling good about what you spent and ready to start saving for the next awesome adventure. 
9. Generate Rough Daily Vacation Schedule
Once you have all of your trip components in order and an idea of the activities you want to do, start planning out a daily agenda for your vacation. It can be as simple as "Explore "X" Town" or "Ski Day", or as detailed as you need it, but having a rough schedule helps keep your vacation on a budget. 
Since I have a very scheduled daily work-life, I like to be a little more relaxed when I travel. I enjoy sleeping in a little bit and not having too structured of a schedule. Typically, I'll break my travel schedule into AM and PM which allows me to feel like I'm organized, but still being spontaneous while allowing wiggle room. 
10. Enjoy Your Vacation!
Finally, get out there and enjoy your vacation! Since you did all of the hard work and detailed prep ahead of time, there is so much less to worry about when it's vacation time. 
By following these steps, you'll hopefully have planned an awesome vacation on a budget and enjoyed a trip of a lifetime. Do this every time you plan a trip and you'll be able to travel so much more for a lot less.
If there are any amazing travel-saving tips you've learned over the years, let me know in the comments.
Happy Adventuring!
-Lily