Sanibel Island may be known for its beautiful beaches and fantastic shelling, but there are also some of the best places to eat on Sanibel Island. For those of you wondering where the heck Sanibel Island is… it's a small island off the coast of Florida, near Fort Myers. If you've been to the Fort Myers area before, Sanibel Island has a completely different vibe. It's low-key, very quiet, small, and popular for its shelling beaches. I'd also argue that the restaurants on Sanibel Island are some of the best. 
The island restaurants have excellent variety, a fun atmosphere, and memorable names. It's hard not to over-indulge when the food is so delicious. Below I share some favorites of both myself and Sanibel-regulars. 
When you make purchases through the links in my post, I may earn commissions at no additional cost to you. As an Amazon Associate I earn from qualifying purchases. As always, I only provide links to products and services I recommend. Read my full disclosure here.
Best Places to Eat on Sanibel Island
Tipsy Turtle Restaurant and Bar
1223 Periwinkle Way Building B, Sanibel, FL 33957
The Tipsy Turtle is a favorite restaurant on Sanibel Island, and for good reason. There is something for everyone here. Whether you're looking for a salad, seafood, pasta, or pizza, you'll find it on the menu. As an added bonus, the cocktail menu is pretty great too! The bright colors found throughout the restaurant are an additional great touch.
Open for breakfast, lunch and dinner, The Tipsy Turtle will not disappoint. Entrees are reasonably priced at around $30 or under. The vibe of the restaurant is very fun and casual, and the restaurant offers both indoor and outdoor seating. Kids will love browsing the gift shop inside the restaurant while they wait for the table. My niece was very tempted by the cute stuffed animals for sale.
There is also a bar behind the restaurant (Back Bar) that seems popular among the younger crowd and advertises live music every night.
Blue Giraffe
Location 1: Periwinkle Place: 2075 Periwinkle Way #14, Sanibel, FL 33957
Location 2: Beachview Estates: 1100 Par View Dr, Sanibel, FL 33957
The Blue Giraffe Restaurant* is a family-friendly restaurant with delicious food, located in the Periwinkle Place shopping center. It's definitely earned its spot as one of the best places to eat on Sanibel Island. They serve breakfast, lunch, and dinner, and offer an expansive menu. We tried a little bit of everything on the menu including a burger, salad, pasta, and appetizers – all was incredibly tasty and well-cooked. 
Prices are very reasonable for Sanibel Island, with most entrees between $20-$30. When dining at the Blue Giraffe Restaurant, make sure to keep your eyes peeled for all the giraffes located throughout – think paintings, statues, stuffed animals. 
The location of the Periwinkle Place restaurant is great for those looking to do a little shopping before dinner. Periwinkle Place has local clothing shops, a fun toy store, an ice cream shop, a spa, and everything in-between. After you work up an appetite shopping, the Blue Giraffe definitely hits the spot.
**Referring to Periwinkle Place Location Only (have not been to Beach View Estates Location)
The Sandbar
2761 W Gulf Dr, Sanibel, FL 33957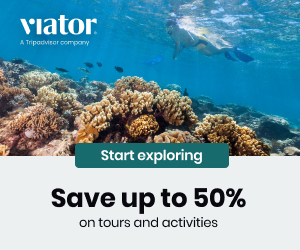 Check out The Sandbar restaurant if you are looking for a delicious place for steak and seafood. You'll pay a bit more than some of the other options on this list, but you also get plenty of meal choices. I especially love that they have pasta and chicken options for those like me who aren't the greatest fan of steak or seafood. 
Entrees are around $26-$40 depending on what you order. Reservations are accepted and highly encouraged.
Doc Ford's Rum Bar and Grille
2500 Island Inn Rd, Sanibel, FL 33957
Doc Ford's Rum Bar and Grille is a very popular spot on Sanibel Island, and for good reason. The food is wonderful, the drinks are delicious and the atmosphere is fun. They have a large food offering and lots of different yummy mojitos. If you are a salad-lover, I highly recommend their Southwestern Cobb Salad – super tasty! 
They actually have four locations in the Fort Myers area, with the Fort Myers location famous for it's gorgeous waterfront views. The Sanibel Island location is very spacious with indoor and outdoor seating options, along with a very large bar that has open seating. There is a fairly large parking lot available, but I imagine it fills up quickly when the restaurant is busy.
The Island Cow
2163 Periwinkle Way, Sanibel, FL 33957
I've been to plenty of restaurants that give out bread as a meal starter, but The Island Cow gives everyone one of their daily muffins – how fun! I received a colorful, sprinkled muffin that was surprisingly delicious. I love when a restaurant adds its own unique touch and the muffin is something so different.
The Island Cow is open for breakfast, lunch, and dinner, and is known for having a very impressive menu of over 300 options. The menu is very reasonably priced and has everything from pancakes and omelets for breakfast to salads and shrimp tacos for dinner. They also offer a full liquor menu. I enjoyed the mozzarella sticks for an appetizer and fettuccine alfredo for my entree and I'd recommend both.
Restaurant guests can enjoy indoor or outdoor seating, and there is a parking lot available as well.
Final Thoughts on Sanibel Island Dining
Sanibel Island is such a fun place to visit and the food options certainly do not disappoint. I found some of the best places to eat on Sanibel Island and I cannot wait to go back and explore more dining options. One thing to note is not many restaurants are open late night on Sanibel. Many restaurants close at 8pm, and I did not find many open past 10pm. You'll see why because everyone is up early enjoying the gorgeous beaches and walking paths, but something to keep in mind when planning your trip. If you have a great Sanibel dining recommendation, let me know and I'll be sure to check it out later this year when I head back!
Happy Travels!
-Lily