The Birthplace of Route 66, Springfield, Missouri is a city filled with history, good eats and adventures galore. There are so many things to do in Springfield during your next vacation. The city is nestled within the Ozarks and is bustling with fun outdoor activities, including several cave tours and awesome trails to explore. 
This post dives into 17 of the top things to do in Springfield, ranging from outdoor activities like public gardens and bike trails to indoor museums like the history museum and Route 66 car showroom. Read on to start preparing your Springfield itinerary! 
The Springfield Convention and Visitors Bureau generously gifted entry into some of the activities included below. As always, opinions are my own and I only recommend activities that I truly enjoyed and think you will too! 
When you make purchases through the links in my post, I may earn commissions at no additional cost to you. As an Amazon Associate I earn from qualifying purchases. As always, I only provide links to products and services I recommend.Read my full disclosure here.
Top Things to Do in Springfield:
Askinosi Chocolate Factory
514 E Commercial St, Springfield, MO 65803
Every Monday afternoon at 3pm, Askinosi Chocolate Factory opens its doors to the public for a tour of the chocolate factory – free samples included! This tour was one of my favorite things to do in Springfield. It's a small and intimate factory with an inspiring story. The owner was a former defense attorney turned chocolate maker who works with cocoa bean producers in countries like Ecuador and Tanzania to produce delicious, fair-trade chocolate. 
Your tour guide will tell you all about the history of the factory and go through each step of the chocolate-making process, letting you sample their product along the way. 
At the end of the tour, you'll have the opportunity to sample their current stock of chocolate bars and purchase items from their shop at a 10% discount. Tours last 45 minutes and tickets can be purchased online for $8 per person. 
Dickerson Park Zoo 
1401 W Norton Rd, Springfield, MO 65803
Celebrating its 100th Anniversary in 2023, the Dickerson Park Zoo is located just north of downtown Springfield and is home to over 450 animals. With admission under $20 for adults, it's a great place to head for an outing, whether you are with your family or on a date. 
I confirmed before heading to the zoo that it's an accredited member institution of the Association of Zoos & Aquariums and has been since 1986. The exhibits were well-designed and very clean. 
One of my favorite aspects of the zoo is that you can see all of the animals in the zoo by following the 1.2 mile trail tour. It was an easy and efficient way to ensure that you covered all of the exhibits without back-tracking. Note that at the time of writing (August 2023), a section of the trail was under construction, which does require you to turn around. 
Aside from viewing the animals, you can also buy food to feed to the fish, goats, and giraffes. I highly recommend feeding the giraffes – they are so gentle. There's not a ton of shade so bring a water bottle as it gets really hot in the summer, and know that there are several splash pads throughout the grounds to help you cool off. 
The zoo is open year-round, but it will close in the winter if the paths are snow or ice covered. There's a free parking lot in front of the zoo, but it is pretty small so I recommend arriving early to get prime parking. There is additional parking behind the zoo at the Ozark Empire Fairground, but there may be a fee.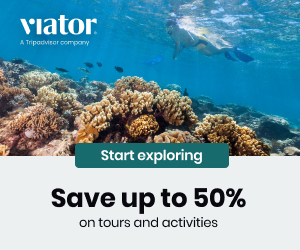 Ozark Tap and Pour Tour 
Various Locations Around Springfield & Surrounding Area
Beer lovers will have fun partaking in the Ozark Tap and Pour Tour. There are 23 participating craft beverage makers which include breweries, wineries, and distilleries. Most of the locations are in Springfield, although some are located in surrounding cities. 
It's very easy to participate and there's no fee (aside from purchasing your beverages). You can sign up for the tour here and you'll receive an email or text with your pass. When you go to a location on the tour, you will "check-in" and earn 10 points (20 points if the location is more than 10 miles outside of Springfield). If you collect 150 points, you will earn a free t-shirt. You can visit participating locations for drinks until May 31, 2024. 
Fantastic Caverns 
4872 N Farm Rd 125, Springfield, MO 65803
Springfield has several caves, but did you know it also has the only fully ride-thru cave in the country? Known as America's Ride-Thru Cave, Fantastic Caverns offers a 55-minute guided tour in a tram attached to a Jeep. All you need to do is board the tram and get ready for a fascinating experience. 
The cave was found on private property in 1862 by the owner's dog. The owner chose to keep the cave a secret for many years, but eventually he shared the area with the public and it has had so many uses ever since: gunpowder making, a speakeasy, and a concert venue. 
Today, Fantastic Caverns offers fully-accessible tours every 20-30 minutes throughout the day. This is a great first-cave visit for those that are uncertain about cave tours and an awesome option for those with physical limitations since the tour requires no walking. Check out my post on Caves in Missouri for a thorough guide to the area caves and all you need to know.
Frisco Highline Rail-Trail 
Mile 0: 3845 W Kearney St, Springfield, MO 65803
Outdoor enthusiasts will love the Frisco Highline Rail-Trail that spans 35 miles from Springfield to Bolivar. This path was designated a National Recreation Trail in 2004 and is owned by the Ozark Greenways. The beginning of the trail in Springfield offers ample parking along with picnic tables.
The trail is beautiful for biking, walking and running. The trail is paved and portions of the trail are surrounded by trees which provide excellent shade coverage on those hot Missouri summer days. The trail is free to enjoy and there are plenty of spots to visit along the way. Check out this list of top stops along the trail. 
Wild Animal Safari 
124 Jungle Rd, Strafford, MO 65757
Another unique animal experience located about 20 minutes northeast of Springfield in Strafford, MO is the Wild Animal Safari. Here you'll enjoy a 5-mile drive-thru trail where you'll have the opportunity to see 65 different animal species. The animals may even come right up to your vehicle for feed. Since they are free to roam their habitat, the experience you have will be different each time you visit.
You can drive your own vehicle through the park, but if you'd rather not risk your own car, you can rent a safari vehicle, or take a guided bus tour. The bus tours are free to ride, but operate seasonally and are first-come, first-served so make sure to call ahead to see if they are operating during your visit.
When you've completed the drive, you can head to the Walkabout Adventure Zoo where there are additional animals to visit. Plan on at least 2-3 hours to enjoy the entire park (both the drive-thru and walk-thru portions).
Route 66 Car Museum 
1634 W College St, Springfield, MO 65806
Springfield, MO is officially recognized as the birthplace of Route 66, and what better way to re-live its memories than by visiting the Route 66 Car Museum in Downtown Springfield. 
The collection of over 75 cars is privately owned by Guy Mace who started his collection in 1990. Inside the museum, you'll find cars from several different eras, including a 1907 REO Runabout, 1967 Austin Healy 3000, and 1981 Rolls Royce Corniche. 
The museum is open daily from 9am-5pm (except Thanksgiving and Christmas). Tickets can be purchased at the door for $15 per adult. Make sure to check out the gift shop after your time in the showroom. You'll find tons of 'automobilia' and Route 66 items that make perfect souvenirs.
Hammons Field
955 E Trafficway St, Springfield, MO 65802
Springfield is home to both a professional and collegiate baseball team – all at one field. Hammons Field hosts the Springfield Cardinals, a Double-A Minor League Baseball Affiliate, and the Missouri State Bears. 
The schedule for the Springfield Cardinals runs from early-April until mid-September and home game tickets are very affordable, starting at $10. Fans can also purchase a membership where you get tickets to at least one game a month, along with a plethora of other benefits not available to the general public like team-store and food discounts and access to event pre-sales. 
It's a great family-friendly activity when you're in the Springfield area. Check their schedule here to see if they'll be home during your vacation. 
History Museum on the Square
154 Park Central Square, Springfield, MO 65806
The best way to learn about Springfield's past is at the Museum on the Square in downtown Springfield. The museum offers 8 interactive galleries beginning with the Native Americans' experience in Springfield and ending with the Birthplace of Route 66. You'll also hear stories from the past, learn about the transportation in Springfield, and discover the role Springfield had in the Civil War. 
The museum often has special exhibits in addition to their permanent galleries. The museum is designed to flow through history and provides a great spot to learn about the area. Adult tickets are $16 and the museum is open Wednesday through Sunday. 
Springfield Art Museum
1111 E Brookside Dr, Springfield, MO 65807
Head to Springfield's oldest cultural institution where you will find over 10,000 works of art. On June 26, 1928, an art study club incorporated the museum and began gathering traveling exhibits to fill the museum. Today, the Springfield Art Museum is full of wonderful exhibits, both permanent and traveling, designed to inspire your creative side. 
The museum is open Wednesday through Sunday and is free to visit, although donations are accepted. There are also periodic child and adult classes offered. 
Springfield Botanical Gardens at Nathanael Greene/Close Memorial Park
2400 S Scenic, Springfield, MO 65807
The Springfield Botanical Gardens at Nathaneal Greene/Close Memoral Park are a must during any visit to Springfield. The park is 113-acres of gorgeous gardens, playgrounds, and trails, many of which are maintained by volunteers. The South Creek Greenway also connects with the park making it a great spot for a bike ride or run.
This was one of the most impressive stops during my visit to Springfield. I could have spent hours strolling the gardens and enjoying all that the park has to offer – although the heat was a real kicker. The entire park area and botanical garden is free, although if you venture to the Mizumoto Japanese Stroll Garden you will need to pay a small entrance fee.
Rutledge-Wilson Farm Park
3825 W Farm Rd 146, Springfield, MO 65807
Have you ever been to a public park that houses farm animals? At Rutledge-Wilson Farm Park, you can visit the red barn where you'll meet chickens, mini horses, goats, and many more animals. Visiting the animals is free, but if you want to feed them, park staff ask that you purchase animal feed from inside the gift shop. 
Along with the animals, the park offers tons of other exploration options from a fishing pond (small fee to fish) to a farm-themed playground. Kids can enjoy the pedal tractors to ride around or head over to grab photos on the antique tractors. There's also a visitor center with bathrooms and a gift shop where you can buy fun agriculture-themed gifts. 
This is one of the more unique public parks and it's such a fun spot. Check out the online calendar for upcoming festivals held at the park for even more fun. 
Pineapple Whip
Multiple Locations Around Springfield
Pineapple Whip is a must when visiting Springfield in the middle of summer. It's the perfect refreshing treat on a hot day. Pineapple Whip is a non-dairy, fruit juice-based snack that is unsurprisingly pineapple flavored. You can get a dish of Pineapple Whip from four stand locations throughout Springfield (and one in Kansas). Along with pineapple flavor, each stand also has a rotating flavor such as raspberry lemonade or banana. 
If there's not a Pineapple Whip stand open, pints are available for sale at the two Springfield Hy-Vee locations. I had never had the treat before (it's also popular at Disney Parks) and found it delicious and refreshing. It's such an affordable and cool sweet on a hot day. 
Springfield Conservation Nature Center
4601 S Nature Center Way, Springfield, MO 65804
The Springfield Conservation Nature Center is an excellent spot within the city to enjoy the peace and quiet of nature. Here you'll find over three miles of trails perfect for walking and enjoying the area. You can run on the trails, but note that the Center does have specific running hours for the trails so you'll want to call ahead to ensure running is an option during your visit.
The Center also features a Visitor Center which has a gift shop, bathrooms, and an awesome exploration area perfect for younger kids. The building is open Tuesday through Saturday from 8am until 5pm. It's a great option for an air-conditioned, hands-on activity for kids on a hot summer day. And it's free!
Johnny Morris' Wonders of Wildlife National Museum & Aquarium
500 W Sunshine St, Springfield, MO 65807
One of the coolest indoor activities in Springfield is the Johnny Morris' Wonders of Wildlife National Museum & Aquarium. Admission to the aquarium is pricier than most of the other things to do in Springfield, but it will keep both kids and adults entertained for hours. I found it to be the perfect activity for a hot July afternoon when I needed a break from the heat. 
The aquarium is huge and has so much to do and see. Along with the aquarium, there are also several museum exhibits. You'll see just about everything from deep ocean coral and sharks to jellyfish and octopus, to sea turtles and alligators. In the museum portions you'll learn about the US National Parks, fishing, and game hunting. 
The aquarium and museum is also connected to the Springfield Bass Pro Shop where you can check out all that the shop has to offer, including tons of outdoor gear and fun exhibits within the store. The aquarium offers a gift shop and food area for snacks. Tickets start at $33.75 per adult depending on day and time you go, but the company does offer ticket bundles so make sure you look at all options before purchasing tickets. 
Crystal Cave
7126 N Crystal Cave Ln, Springfield, MO 65803
If you're ready for an authentic cave adventure, head to Crystal Cave for a 45-minute guided cave tour. Your guide will lead you from the gift shop, across the yard, and down several deep stairs to the cave entrance. Once inside the cave, you will see hundreds of beautiful formations while testing your agility skills as you crawl and duck under low-hanging cave walls. 
Crystal Cave is open seven days a week from Memorial Day through Labor Day and Wednesday through Sunday during the winter season. Along with cave tours, Crystal Cave also offers a 9-hole mini golf course, old-school penny arcade games, and a unique gift shop. It's such a fun cave experience and I highly recommend it for anyone who is physically able to walk through the cave. 
Springfield Discovery Center
438 E St Louis St, Springfield, MO 65806
Perfect for engaging and educating kids, the Springfield Discovery Center is a nonprofit science center that includes 50,000 square feet of interactive exhibit space. The Center is spread across two separate buildings: one with three stories and the other with four. One of the buildings is even a Gold LEED-Certified Building, which is the first in Southwest Missouri. 
The center focuses on STEM – science, technology, engineering, and mathematics, so you'll find exhibits like the electrifying Tesla toil, the shadow room, and the BodyWorks exhibit just to name a few. 
Admission is $10 for children and $15 for adults. Memberships can be purchased which provide free admission to the Discovery Center throughout the year. Various events are also hosted at the Center like Night At the Museum which is an adults-only event that raises funds for the local community. This is a spot for fun, no matter your age. 
Conclusion:
As you can see, there is an endless number of things to do in Springfield, making it a wonderful travel destination. After working up an appetite exploring the area, check out my post on the Best Restaurants in Springfield – the food options are just as plentiful as the activities.
Have the best time exploring Springfield, and as always, reach out to me with any questions, comments, or suggestions!