About Bearizona Wildlife Park:
Did you know you can find bears, goats, jaguars, and bobcats in Northern Arizona? Bearizona Wildlife Park houses all of those animals and more! Located in Williams, Arizona, Bearizona is situated within the Kaibab National Forest and offers a fun and unique experience for all. The Wildlife Park includes both a drive-through and walk-through portion, so make sure you bring your walking shoes and be prepared for a great time. Below I include everything you'll need to know to ensure a great visit. 
When you make purchases through the links in my post, I may earn commissions at no additional cost to you. As an Amazon Associate I earn from qualifying purchases. As always, I only provide links to products and services I recommend. Read my full disclosure here.
Location:
1500 E. Route 66, Williams, AZ 86046
About 1 hour south of the Grand Canyon's South Rim 
About 30 minutes west of Flagstaff 
About 3 hours north of Phoenix
Cost:
| | |
| --- | --- |
| Weekday – Senior (62+) | $27 |
| Weekday – Adult (13-61) | $30 |
| Weekday – Child (4-12) | $20 |
| Weekend – Senior (62+) | $32 |
| Weekend – Adult (13-61) | $35 |
| Weekend – Child (4-12) | $25 |
| Children 3 & under | Free |
If you are local to the area or plan on visiting frequently, the park does offer annual memberships.
Hours:
Open Daily 8:00am – 7:30pm (last entry at 6:00pm)
Time to Explore:
According to the website, most people spend 3 hours driving the wildlife road and walking the zoo area. I was shocked that Sam and I spent close to 2.5 hours exploring. The drive-through portion took us about 30-40 minutes and then we spent a couple hours walking around and even caught a show.
I imagine when it's busy that the drive can take quite a bit longer as cars get backed up.
The Experience:
Drive-Through Area:
Once you arrive and pay at the drive-up ticket counter, you will begin your drive through the northern Arizona wilderness. 
The main rules for the drive are to keep bodies in vehicles, roll up windows when necessary, and keep your car moving. There are staff members stationed throughout the drive to ensure that you are complying with the park rules. Please note you must have a vehicle that is completely enclosed and has fully functioning windows (i.e. no ATVs, open Jeeps, etc.).
The 3-mile drive starts with the rocky mountain goats and ends with the black bears. In-between you'll smile at the burros, try to spot the wolves, enjoy the jr. black bears, and stare in wonder at the large bison. If you're Sam, you'll also pray none of them get too close to the rental car. The experience is great and there are several areas where you can circle around if you want to see an animal again.
My favorite part is that the animals are free to roam and there is no barrier between you and the animals (other than your car, of course!). There are signs before each new animal's territory identifying the animal and letting you know if windows need to be rolled up. For example, when driving through the wolves and bears' enclosures, windows had to be up (and doors locked for Sam's peace of mind 🙂 ). 
We visited the park around lunch time and had no trouble finding all of the animals. Many were quite active even, especially the bears. The website FAQs state that the animals tend to be more active early in the morning and later in the afternoon, but even if the animals aren't moving around, you shouldn't have any trouble spotting them among the gorgeous pine trees.
Once you finish your drive, you can either park and enjoy Fort Bearizona which is more like a regular zoo where the animals are enclosed, or you can drive around and do the wilderness drive again. 
Fort Bearizona Walk-Through Area:
The entrance to Fort Bearizona greets you with handmade Native American goods and a stage that often has live music playing. We walked into the zoo at just the right time to catch an afternoon show. The show featured three different animals that were able to walk around the green space while the zookeeper provided information on the animal and how they came to be zoo residents.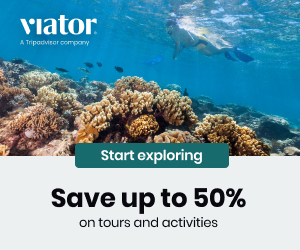 Although definitely not as big as your typical zoo, Fort Bearizona has a wide array of animals like beavers, badgers, jaguars, foxes, and otters. My favorite exhibit was the three grizzly bear siblings. Initially when we saw them, two of the bears were playing in the water with each other and it was truly a sight to see. After water time, the two joined their sibling in the large green space in the back for some more playtime.
I loved that Bearizona provided simple, yet important information and descriptions for the animals. For example, the grizzly bears arrived at the zoo after losing their mom when she had an unfortunate encounter with a hiker. With the bears unable to survive on their own, they were captured and will remain in captivity. 
There are also several places to get snacks and drinks (including alcoholic beverages), such as the Bearizona Grille. If you're looking for a bigger meal, Bearizona has you covered with Canyonlands Restaurant. The menu can be found here and the restaurant is open 7 days a week – only to park visitors and annual members.
Final Thoughts: 
Overall, Bearizona Wildlife Park was a really fun stop on our way back from the Grand Canyon, and I was pleasantly surprised with the setup. I'd definitely recommend a visit if you are in the area or if you have kids that love animals. Sam and I both enjoyed the experience and felt we got our money's worth with all the park had to offer. For more Arizona travel ideas, check out my Guide to Hiking Camelback Mountain, Tubing the Salt River, and my Complete Guide to Papago Park. 
Happy Exploring!
-Lily