About Papago Park
Papago Park is a 1,500 acre greenspace less than 10 minutes from the Phoenix Sky Harbor International Airport. The park is located in the cities of Phoenix and Tempe and has activities for all ages and fitness levels. Papago Park is a great place to visit in Phoenix and is an awesome stop to check out after a long flight or to spend an entire day. The park offers free activities from hiking trails and picnic pavilions to paid activities such as the Phoenix Zoo or Desert Botanical Gardens.
When you make purchases through the links in my post, I may earn commissions at no additional cost to you. As an Amazon Associate I earn from qualifying purchases. As always, I only provide links to products and services I recommend. Read my full disclosure here.
The Best Things to Bring For a Day at Papago Park
Sunglasses

My favorite sunglasses for everyday wear are Goodr sunglasses (great for activities and affordable) 

Sunscreen 
Sturdy walking shoes 
Hiking clothes 
Water Bottle 

I always have two 32-ounce water bottles on me

Snacks 
Camera 
Places to Eat in Papago Park
Picnic Lunch: Papago Park is filled with ramadas featuring beautiful views. There are numerous areas throughout the park to enjoy a picnic lunch. Check out the area around hole-in-the-rock or the ponds if you want to do some people watching while you eat, or head to West Papago Park for a slightly quieter, more remote lunch. Don't forget the following items if bringing your own meal: 

Picnic Backpack – This backpack includes just about everything you might need for a picnic lunch, including silverware and a blanket. I love that it's a backpack so it's easy to carry. 
Picnic Blanket – I always like to keep a picnic blanket in my car just in case all of the tables are taken or I end up needing to use it to warm up. 
Paper Towel/ Napkins – I always forget napkins, so I hope this helps the next person avoid my mistakes. 
Hand Sanitizer 

Zoo Food– The Phoenix Zoo knows that visitors can easily spend an entire day exploring and is well-prepared for hungry families. There are several options including the Savanna Grill if you're looking for a full meal (burgers, hot dogs, etc.) or Safari Snacks for a quick bite to eat. Food and drink options are located throughout the zoo so check the zoo map for locations and hours. You can also take food/snacks into the zoo and there are plenty of picnic tables located throughout the zoo grounds.
Gertrude's Restaurant: Located in the Desert Botanical Gardens, Gertrude's is known for local, farm-fresh food and is a great option if you are looking for a slightly more upscale meal. Reservations are highly recommended as Gertrude's is usually quite popular. The restaurant is open Monday – Friday from 10:30am – 8pm for lunch and dinner, and Saturday – Sunday from 8am – 2:45pm for brunch and from 3:30pm – 8pm for dinner.
Things to do in Papago Park
Location: 1201 N. Galvin Parkway, Phoenix, AZ 85008
The Desert Botanical Garden is a Phoenix-area favorite, boasting 50,000 plant displays in 55 acres. The garden is broken down into several short trails which each represent different parts of the desert. As you walk along the trails, you'll learn about the cacti and other desert plants of the area, the people of the Arizona, and see thousands of different plant varieties. 
Desert Botanical Garden Trails: 
Desert Discovery Loop Trail (.3 mi) 
Sonoran Desert Nature Loop Trail (.25 mi)
Plants & People of the Sonoran Desert Loop Trail (.3 mi) 
Desert Wildflower Loop Trail (.3 mi) 
Center for Desert Living Trail (.1 mi)
Admission to the Garden varies depending on the season/day of the week, but ranges from $24.95-$39.95 for general admission and $14.95 – $18.95 for children ages 3-17. Admission is free for Active Military Personnel. Hours are currently 8am – 8pm. Please note that advanced reservations are required and tickets must be purchased online. 
Tip: The second Tuesday of each month is a Community Day, meaning Garden admission is free! You do need to register your group online ahead of time though.
Go Golfing 
Phoenix offers many wonderful golf courses for the golf enthusiast, including two picturesque golf courses in Papago Park. 
Papago Golf Club

5595 E. Karsten Way, Phoenix, AZ, 85008
602.275.8428
Public Tee Times can be booked here
Lou's Bar & Grill
Location: 455 North Galvin Parkway, Phoenix, AZ 85005
The Phoenix Zoo is one of my favorite zoos and provides so much to see and do, from animals to splash pads to playgrounds. According to the Phoenix Zoo website, the zoo spans approximately 125 acres and staff recommend at least 3 hours to wander the area. The zoo is divided into four trails to view over 3,000 animals: 
Africa Trail
Arizona Trail 
Tropics Trail
Children's Trail
The Africa and Tropics Trails tend to take a little more time to walk than the Arizona and Children's trails. Along the Children's Trail you'll be able to brush goats, pet a horse, and visit with emus. 
Generally, you can feed the giraffes along the Africa Trail, but the encounter is currently closed. You are still able to ride a camel ($7 for general ticket holders, $6 for zoo members). 
Don't forget to visit Stringray Bay while walking the Arizona Trail. It does cost $5 ($4 if a member) to enter the bay where you can touch the stingrays. Additionally, stingray food can be purchased for $4 per cup. 
The zoo also offers a Safari Cruiser if you want to enjoy a 25-minute narrated ride ($6 for general ticket holders, or $5 for zoo members). The Cruiser is a great option to get a feel for the layout of the zoo, if you are short on time, or if walking the entire zoo isn't the best choice for you.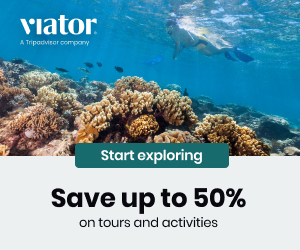 The zoo recently brought back Rydables, which are motorized "scooters" disguised as animals. There is an activation fee and then the Rydable is rented per minute. Download the Rydable App to reserve your ride and learn more about prices. 
Admission to the zoo is $27.95 for adults 14 & up and $27.95 for children ages 3-13 – if purchased online (price increases $2 if purchased at the zoo). The zoo is open Monday – Sunday from 9am – 5pm (January 21 – May 31).
Enjoy the Views from Papago Park's Hole-In-The-Rock
Hole-in-the-Rock is an absolute favorite in Papago Park, especially for the perfect photo opportunity. Kids and adults are amazed by the large rock formation with a hole, providing marvelous views of Phoenix and beyond. The trail to access the hole-in-the-rock is just 0.30 miles and is rated as easy, although expect it to be quite rocky. 
There are "steps" to get into the hole and once inside, there is plenty of space to roam and enjoy the views. Because of the ease of the trail and the location, hole-in-the-rock is usually pretty crowded. I've also heard it's a wonderful place to watch the sunset in Phoenix. 
You'll often see people climbing other parts of the rock, although there are no marked trails to these areas and it can be dangerous. Please use caution and do not go in restricted areas.
Check Out Governor Hunt's Tomb 
Visit the burial site of Arizona's first governor, George W.P. Hunt. Situated on a hill overlooking Papago Park and the Phoenix Zoo, the white pyramid is the final resting place of the governor and his family members.
Explore Papago West Park 
Papago West Park is a beautiful, quiet location to hike. It's the perfect section of the park for the outdoor enthusiast. Papago West Park offers several trails that traverse the beautiful buttes of Papago Park. The trails are gravel/rocky, but have very little elevation gain so they are great trails for beginner hikers or those looking for more of a leisurely stroll with great views.
Double Butte Loop Trail

Rated: Easy
Distance: 2.3 miles  

Papago Park 5k Fitness Trail 

Rated: Easy
Distance: 3.1 miles
Drinking fountains along the trail 

Elliot Ramada Loop Trail

Rated: Easy
Distance: 2.7 miles

Little Butte Loop Trail: 

Rated: Easy
Distance: 0.5 miles 

Big Butte Loop Trail

Rated: Easy
Distance: 0.8 miles
Phoenix is filled with beautiful parks, trails, and activities so you can't go wrong no matter where you choose to go. I love Papago Park because it is an excellent option close to the airport, with great activity choices for adults and kids alike. With so many activities, both free and paid, which will you choose first? And if you're looking for a challenging hike near-by, check-out Camelback Mountain. My post has everything you need to plan your perfect hike.
Happy Exploring! 
-Lily