A perfect summer activity in Phoenix is a float trip down the beautiful Salt River. With summer temperatures in Phoenix easily exceeding 100 degrees, it's the perfect way to enjoy the outdoors while staying cool – the average water temperature of the Salt River is just 68 degrees making for a very cool float trip. Children can join in on the fun too, as long as they are at least eight years of age and four feet tall. Below I share all you need to know to enjoy a perfect day on the river.
When you make purchases through the links in my post, I may earn commissions at no additional cost to you. As an Amazon Associate I earn from qualifying purchases. As always, I only provide links to products and services I recommend. Read my full disclosure here.
Where is the Salt River Located?
The segment of the Salt River that runs through Mesa (formerly the Lower Salt River) is located in the Tonto National Forest and is perfect for every outdoors lover. With beautiful views, wild horses, and miles of river, there's something for everyone. Salt River Tubing and Recreation provides a one-stop-shop for all your float-trip needs and is located at 9200 North Bush Highway, Mesa, AZ 85215.
Salt River Tubing Parking – Where to Leave Your Car:
There is a large parking lot at Salt River Tubing and Recreation which is exempt from the Tonto National Forest Recreation Day Pass Requirement. Please note if you do not park in this parking lot, you will need to purchase the pass for $8/day (an America the Beautiful Pass is also accepted). The daily pass can be purchased at Forest Offices and various retail outlets. 
I highly recommend arriving earlier in the day to make sure you get a parking spot, and to avoid the crowds. 
How Much Does it Cost to Go Tubing on the Salt River?
Salt River Tubing and Recreation charges $21+tax per tube. This price includes the bus ride to and from the river. Additionally, for another $21 you can purchase an extra tube with a bucket in the middle for things like your cooler, belongings, etc. If you have your own tube and just need transportation, you can ride the bus to and from the river for $19+tax for unlimited rides. 
Note: Make sure you have an ID as they require one ID per every five tubes rented. They will hold onto the ID until you return the tubes. If you do not bring the tubes back, you will have to pay a fee of $30 per missing tube in order to get your license returned. 
Salt River Tubing and Recreation Hours:
The tubing season begins around April or May, depending on weather and usually continues through September. During the operating season, the main rental building is open daily from 9am-6:30pm with the last tube rental at 2pm. Make sure to check their website or give them a call to confirm current hours. 
Best Time to Go Tubing on the Salt River:
For ease of parking, wildlife spotting, and a quieter river, I recommend floating down the Salt River on a weekday if possible. If you are enjoying the river on a weekend, I highly suggest going earlier in the morning. You can always spend all day on the river, but this will help ensure you find a parking spot easily and get on the river right away.
Salt River Tubing and Recreation is open daily in the hot summer months, but their hours vary once the weather starts to cool for the winter. It's obviously busier in the middle of the summer when it's hottest, but the trip can be just as enjoyable later in the spring before school lets out for summer and it's way less crowded.
What to Bring:
Pack minimally because the water is very deep and the rapids can be bumpy. If anything ends up in the water you're unlikely to get it back. There are some essentials you'll want to bring to ensure a great day on the water.
Water Shoes – I did not have these and really wish I did. The bottom of the river is very rocky and shallow in some places. Water shoes would also make entering and exiting the river so much easier as it can be quite painful and slippery. 
Swimsuit
Water – Bring LOTS and LOTS of water. Way more than you think you'll need. I can't stress this enough. Especially if you are consuming alcoholic beverages, you will really need to make sure you are drinking enough water. Salt River Tubing and Recreation recommends at least 24 ounces of water/hour while on the river to remain hydrated. 
Snacks – You'll likely be on the river for several hours so make sure you bring all the goodies. I like granola bars because they are easy to pack and eat and are very filling, but other people on the river had full lunches like sandwiches, chips, fruit, etc. 
Drinks (no glass!) – You can bring drinks down the Salt River and most groups have at least one cooler full of various drink options. I always bring LaCroix water and seltzer or wine, while Sam opts for a couple different beer choices. 
Sunscreen – Apply sunscreen before you go and make sure to reapply while on the water. There are plenty of places to pull off the water and take a break so make sure to use this time to reapply the good stuff. Supergood! Unseen Sunscreen has been my go-to lately because it's easy to apply, doesn't show and does a great job protecting my sensitive skin.
Towel – I left my towel in the car since the sun dries you off so fast, but I recommend bringing at least one to clean up/use as a shield for getting dressed after. 
Tube Cover – All the tubing pros had covers/sheets for their tubes and I will definitely be bringing one next time. The tubes that are rented are black and they get burning hot almost instantly. We were able to splash water on them to cool them off, but having a cover would be much more comfortable on the skin. Linked is a tube and cover, although if you rent a tube, you'll only need a cover. A sheet would also probably work just as well as a dedicated cover.
Rope – The staff advises you not to tie tubes together for safety reasons, but the repeat visitors all brought their own rope. A couple we met had extra that they graciously gave to us and it made the second part of our trip so much more enjoyable.
Life Jacket – You have to pay to rent a life jacket so bring your own if you have them. They do not require you to rent/wear them, but the water can be very deep is spots so I'd highly recommend bringing them along for safety.
Music – Definitely optional, but if you're going for more of a party vibe, make sure to pack a portable speaker to play some music. Please be respectful and don't blast music around others, and remember that kids are on the river too when selecting what songs to play. 
Waterproof bag for phone – Whether for music, emergencies or photos, you may want to have a phone on the river with you and you'll need a waterproof bag, ideally one that floats. I was glad I brought my phone as the scenery was gorgeous and I was able to capture some photos of the beautiful wild horses, but was definitely nervous about losing it to the depths of the river. 
Tubing Down the Salt River:
After you arrive and find parking, you will pay for your tubes and get instructions from one of the staff. They'll tell you about the water speed for the day, and I had no idea what the numbers meant for us tubing, but I'll definitely do more research on that before we go next time.
It's pretty straight forward, but make sure you have everything in order before you get on the bus. For example, if there is anything you don't need on the river with you, make sure you lock it up in your car (things like credit cards, extra keys, watches, etc.). The sheriff's department is right across the street so rumor has it crime is pretty low in the parking lot. I'd also recommend putting on sunscreen before you get on the bus so you can head right to the river. 
On the day Sam and I went, Salt River float trips were going from Stop 2 through Stop 4. They have Stop 1 through Stop 5, but said that they don't operate all stops until school is out for the summer and they have more bus drivers available. According to a map on their website, they are no longer floating to Stop 5.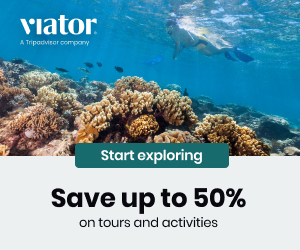 Salt River Tubing Transportation:
The bus ride is just a few minutes and will drop you off on the side of the road at a trailhead. From there you have a short 3-5 minute walk to the river. We were dropped off at Stop 2 and there were bathrooms on the way to the river. 
Entering the Salt River:
Make sure your group is organized and ready to go before getting the tubes in the water. There are some rapids right away once you start down the river so you are off to a quick start. I was worried it was going to be rapids and an arm workout the entire way, but thankfully most of the river is very calm with just a few rapids (which are actually really fun!). 
Salt River Views and Wildlife:
The views on the Salt River are stunning. Immediately you are surrounded by mountains, birds flying around, and the sounds of nature. Since we were out on the river on a weekday morning, the river was pretty quiet aside from the occasional group of kayakers or tubers that caught up to us. 
Along with the beautiful mountain views, my favorite part of the trip was seeing wild horses. We saw several groups of horses and some even came deep into the river. It was such an awesome experience. 
How Long is a Salt River Tubing Trip?
If you float straight through without any stops, the trip can take 2-5 hours depending on water levels. However, if you make stops to hangout in the water, catch-up with friends, or have a drink or two, you can easily make your float trip a full-day event. Just make sure you are out of the river and ready for the last bus pickup at 6:30pm. Otherwise you are in for a long walk back to your car. 
The Tubing Exit:
Getting out of the water can be a bit challenging if the water is pushing you to keep going (again, where I'd recommend having water shoes), and once out you have about a five minute walk to the bus stop. At Stop 4, there were again bathrooms which was really nice. It's under a 5-minute drive back to the tube terminal and once you return your tubes and get your license, you're free to go. 
While tubing is such a fun summer activity, please keep it a blast and make sure you have a designated driver to get everyone home after the float trip. They are so much fun, but it can be easy to lose track of how much you've had to drink while floating. Keep yourself and others safe by planning ahead 🙂   
Tubing down the Salt River was the highlight of my Spring 2022 trip to Phoenix. I had been wanting to do it for some time and it was even more than I was expecting. The views are just incredible and the wildlife is amazing. Whether you're local to Phoenix or visiting, I highly recommend adding this on your list of activities to try. If you're looking for other places to explore around Phoenix, make sure to check out my posts on things to do in Papago Park and hiking Camelback Mountain.
Happy Floating!
-Lily